Hotel della Torre Argentina
Hotel Review
ABOVE: The Hotel della Torre Argentina faces the Corso Vittorio Emanuele II, a major thoroughfare and bus route in Rome's historic center.
By Durant Imboden
When I made a short solo trip to Rome a while back, I searched the Web site of our booking partner to find a hotel that met several criteria:
It had to be convenient to the Centro Storico, the Vatican, and the Tiber River;

The price had to be reasonable;

Free Internet access was a must;

I wanted to be near a railroad station with good connections to Fiumicino Airport and the Civitavecchia cruise port;

I preferred a hotel with high guest ratings from our booking partner (whose user reviews are written by paying guests, not marketing agencies or hoteliers posing as customers).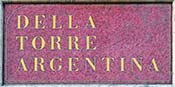 A number of hotels met my criteria, but the most convenient choice for my purposes was the Hotel della Torre Argentina, which is located on the Corso Vittorio Emanuele II next to the Largo di Torre Argentina--a square with extensive Roman ruins, a cat sanctuary (see photo below), and a tram line that runs directly to Trastevere Station.

I booked a single room, which turned out to be a double at a steeply-discounted price. The room wasn't huge, but it was big enough, with a traditional decor, a comfortable bed, a sleek modern bathroom, and air conditioning. Internet access was via an Ethernet cable or Wi-Fi. Downstairs, the comfortable lobby had a good selection of newspapers.

Breakfast was included in the room rate. It consisted of a generous buffet that was served in a vaulted cellar breakfast room.
I spent three nights at the Hotel della Torre Argentina, and I had no complaints or problems during my stay. (I was especially pleased that the hotel permitted check-in at any time after noon, which meant I didn't have to kill time by wandering around the city in a daze after an overnight flight.)
How to book:
Our hotel partner, Booking.com offers "lowest guaranteed prices" at more than 1,700 properties in Rome, including the Hotel della Torre Argentina. It has a secure reservations system that offers peace of mind when you're transmitting your credit-card information over the Web.
For captioned photos of the hotel, go to page 2 of this article.
Next page: More photos of the Hotel della Argentina
---
---