Europe > Rome > Transportation > Fiumicino Airport (FCO)
Rome Fiumicino Airport
A guide to Leonardo Da Vinci Airport, including ground transportation between FCO and central Rome.
By Durant Imboden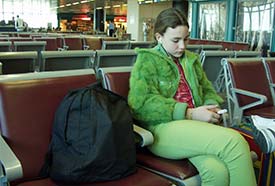 ABOVE: Waiting for a plane at Leonardo da Vinci Airport, a.k.a. Fiumicino Airport.
Rome's Leonardo da Vinci International Airport is usually called "Fiumicino Airport," with the airport code "FCO," after the name of the suburb where the airport is located.
FCO is the larger of Rome's two major airports and is served by about 150 international and domestic airlines. (The other airport, Ciampino, is used by general aviation, charters, and a few low-cost carriers.)

Fiumicino normally has three main terminals::
Terminal 1 is used by major airlines such as Alitalia, Air France, and KLM for domestic flights and flights within Europe's Schengen Area.
Terminal 2 handles domestic, Schengen, and non-Schengen flights by budget airlines.

Terminal 3 is used for domestic, Schengen, and non-Schengen flights by various national and international airlines.
For the latest information on airline terminal assignments (which have been in flux during and after Italy's COVID-19 crisis), click here.
Getting around the airport:
The terminals are connected by walkways, so it's easy to reach the check-in areas from the airport's railroad station and bus drop-off points. Just follow the signs and maps.
---
Airport hotels
The most convenient airport at Fiumicino is the Hilton Rome Airport, which is connected to the terminals by an elevated corridor with a moving sidewalk.
The Hilton isn't cheap, but it's extremely comfortable, and its location alone makes it worth the splurge if you have an early-morning flight.
---
Ground transportation from Fiumicino Airport to Rome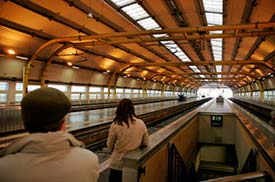 ABOVE: Fiumicino Airport's railway station is only a short walk from Terminals 1, 2, and 3.
Leonardo da Vinci (Fiumicino) Airport is about 30 km or 20 miles from the center of Rome. Here's how to reach the city:

By "Leonardo Express" train. The Leonardo Express is a first-class train that runs between the airport and Termini (Rome's main railroad station) in 32 minutes with no intermediate stops.
Trains depart at 15- to 30-minute intervals. For details, including illustrated step-by-step instructions for buying tickets and using the train, see our Leonardo Express article.
By regional train. The FL1 rail line runs between the Fiumicino Airport railway station to Rome's Trastevere, Piramide/Ostiense, and Tuscolana stations. It's cheaper than the Leonardo Express and more convenient for some parts of the city and the cruise port at Civitavecchia. See "Cheaper trains and other Rome stations" in our Leonardo Express article for more information.
Train tips:
If you've booked a hotel near Termini Station, the Leonardo Express is your best bet. The Fr1 may be more convenient if you're staying in Trastevere or near the Vatican.

Whether you're taking the Leonardo Express or the FL1 line, be sure to validate your ticket in one of the machines on the platform. Traveling with an unstamped ticket can result in a hefty fine.
By bus. SIT operates bus shuttles that stop at Fiumicino City, Fiumicino Airport, the Vatican, and Termini Station, with frequent departures from the crack of dawn until mid-evening. Travel times from the airport are 45 minutes to the Vatican and 60 minutes to Termini, or possibly longer in heavy traffic. For English-language information and timetables, click here.
A slightly cheaper alternative is Schiaffini's Rome Airport Bus to Termini Station, which offers free Wi-Fi on board and has comparable fares.

By taxi. You can hire a licensed cab at the official taxi stand outside Terminal 3 on the arrivals level. The flat fare between Fiumicino Airport and locations within Rome is €50 in either direction.
For fixed fares to other locations, click here.
Rail connections to other cities in Italy
The official Trenitalia Web site has an interactive timetable and other information for travelers.
---
How to check in for your flight at FCO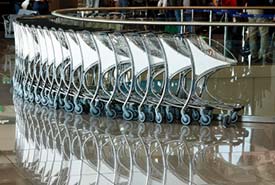 ABOVE: Luggage trolleys at Fiumicino Airport.

Here are some tips to minimize confusion and delays on your day of departure from Leonardo da Vinci/Fiumicino Airport:
Know your departure terminal before leaving for the airport. (Check ahead with your airline's Web site, or click here.)

Before checking in, look for your flight's check-in counter number on the electronic signs or monitors. (In many cases, an airline and/or flight may be using more than one counter or wicket.)
For travelers to the U.S. or Israel:
If you're changing planes at a European airport on your way back to the U.S. or Israel, you'll check in at Terminal 1, 2, or 3, depending on your airline and connection city. (See page 1.)

If you're traveling on a "codeshare" ticket, the airline you're flying on may not be the one that sold you the ticket. For example, the first leg of a Delta routing to the United States through Amsterdam will be on KLM or Alitalia (departing from Terminal 1), while a direct Delta flight to New York or another U.S. city will leave from Terminal 3.
---
Fiumicino Airport Web links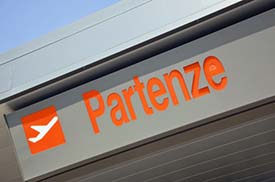 ABOVE: A departures sign in Italian.
Aeroporti di Roma: Fiumicino
ADR's English-language Web pages can be confusing at first glance, but the site does have timetables and enough shopping information to keep you busy if you've won a lottery and are stuck at FCO.
Hilton Rome Airport
This comfortable, well-equipped hotel is connected to the terminals, shops, restaurants,and train station at Fiumicino Airport by an enclosed pedestrian bridge. It's by far the most convenient hotel for catching an early-morning flight from FCO. Although the hotel isn't cheap, our Booking.com link offers guaranteed lowest rates.
---
---
Photos 1: iStockphoto.com/Tina Lorien, 2: iStockphoto.com/Thomas Pullicino, 3: iStockphoto.com/Lya Cattel, 4: iStockphoto.com/Martin Röse, 5: iStockphoto.com: Maria Valentino, 6: iStockphoto.com/Frank Parker, 7: iStockphoto.com/Timur Kulgarin, 8: iStockphoto.com/Robert Wilson