The Metropolitana di Roma offers a quick, easy way to travel between Stazione Termini (Rome's central railroad station) and several major tourist areas.
Although the Rome Metro is tiny in comparison to the Paris Metro, the London Underground, or the Madrid Metro, its trains run at frequent intervals, and Rome's subway fares are among the cheapest in Western Europe.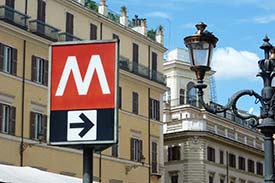 ABOVE: A sign points to the Spagna station of the Rome Metro's Linea A. INSET: On Metro platforms, stay behind the yellow line unless you're boarding or exiting a train.

On page 2 of this article, you'll learn about the Rome Metro's two lines and how to ride the trains.
For related information, see our Metrebus Tickets and Fares article, which includes step-by-step instructions for using ticket machines in Rome Metro stations.
Updated February, 2017