Venice > Sightseeing > Canals
Canals of Venice, Italy
Venice has some 150 canals that range from tiny, quiet "side canals" to the busy Grand Canal (a former river) and the Giudecca canal (which accommodates large ships). Go for a walk or a boat ride, and here's what you'll find.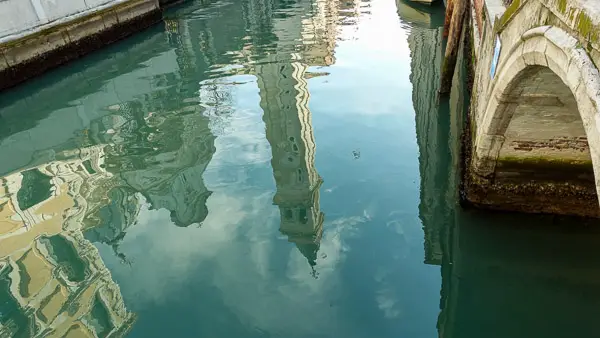 ABOVE: A church tower is reflected in a Venetian canal. (Warning: The water isn't as pristine as the view might suggest.)
By Durant Imboden
The name "Venice" and the word "canal" go hand in hand--so much so that any city or town with a network of canals is likely to be promoted as "The Venice of [insert region, country, or continent]."
In the real Venice, or Venezia (a.k.a. "the Venice of Italy"), more than 150 canals wend their way through the city's historic center. Most of them weren't created by Venetians--they were simply gaps between the cluster of nearly 120 islands that eventually became the the Venetian Republic or La Serenissima.
Over time, as the city-state grew, residents constructed buildings, sidewalks, and seawalls along the canals. Manual dredging also took place, making even the smallest canals navigable by gondole, sandale, and other small boats. Bridges were added, turning a network of islands into the pedestrian-friendly city that Venice is today.
Today, Venice has three major canals:
The Grand Canal, which is an S-shaped thoroughfare that runs through the heart of the city;

The Giudecca Canal, a shipping channel that separates the six sestieri or districts of central Venice from the long, skinny island of La Giudecca;

The Cannaregio Canal, which connects the Grand Canal with the Venetian Lagoon.
In addition to these large canals, Venice has more than 150 neighborhood or "side canals" that vary in width and boat capacity.
---
BELOW: This map of Venice's centro storico, or historic center, has captions for the city's three major canals. If you look closely, you'll see tiny blue representations of smaller neighborhood canals or "side canals" that are identified with the name "Rio" (such as "Rio di S. Toma" or "Rio di Santa Maria Formosa") on stone plaques alongside bridges.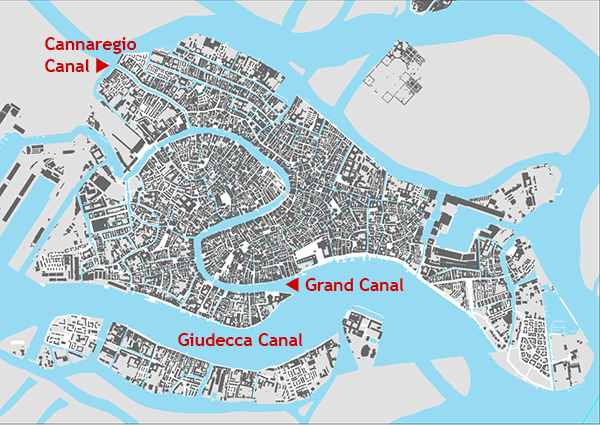 ---
BELOW: Our second map shows the six sestieri or districts of central Venice plus the island of La Giudecca.  There are three sestieri on each side of the Grand Canal.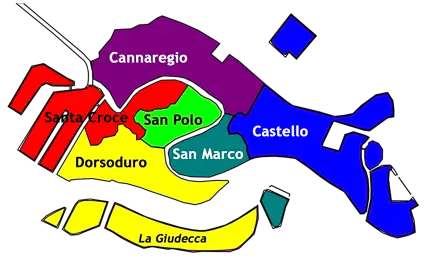 ---
The Canal Grande, which occupies an ancient riverbed, is Venice' s busiest thoroughfare. It snakes through the centro storico or historic center, running about 3 km or two miles from the Piazzale Roma (Venice's gateway for wheeled traffic) to St. Mark's basin and the Venetian Lagoon.
From early morning until evening, the Grand Canal is packed with vaporetti  or public water buses, Alilaguna Orange Line airport boats, water taxis, gondolas, delivery barges, and other traffic.
 Note: Contrary to popular belief, cruise ships don't travel on the Grand Canal. Its four bridges aren't high enough to accommodate any boat taller than a water bus, and the canal's average depth is only about 5 meters or 17 feet.
---
BELOW: Vaporetto Line 1 offers a relatively cheap and easy way to travel up or down the Grand Canal. The boat zigzags between 21 ACTV waterbus stations on both sides of the canal during its 58-minute journey.
Tip: With a 24-hour to 7-day ACTV Tourist Travel Card, you can use the public water buses to cross from one side of the canal to the other without buying a ticket. (This can be convenient if you aren't near one of the canal's four bridges.)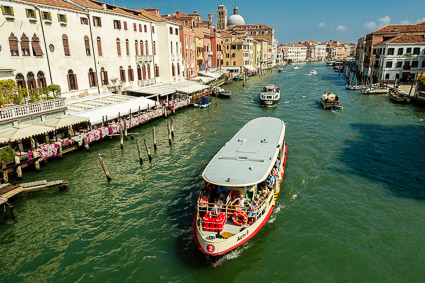 ---
BELOW: If you're lucky and find yourself on an older water bus with bow seating, head forward for a seat with a view. (You'll also find covered fresh-air seating in the stern, behind the enclosed cabin.)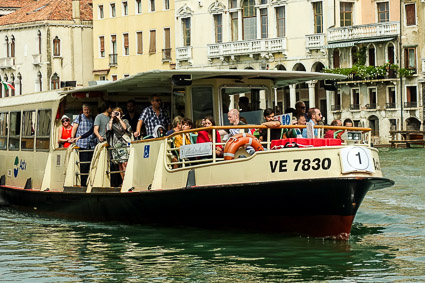 ---
BELOW: If you take the No. 1 vaporetto from the Piazzale Roma to St. Mark's Basin, the first waterbus stop that you'll pass is Ferrovia (directly in front of the Venezia Santa Lucia Railroad Station, which is the low modern structure in the background of the photo below). Just east of the station is the Ponte dei Scalzi, or Scalzi Bridge, which is one of four bridges across the Grand Canal.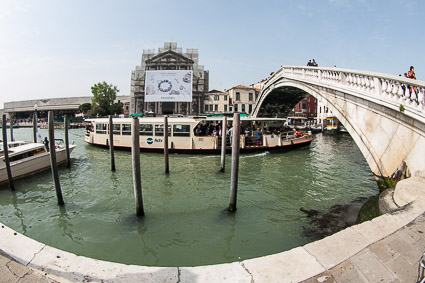 ---
BELOW: These two vaporetto stations are at Rialto and Rialto Mercato.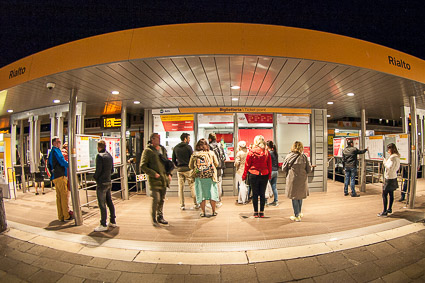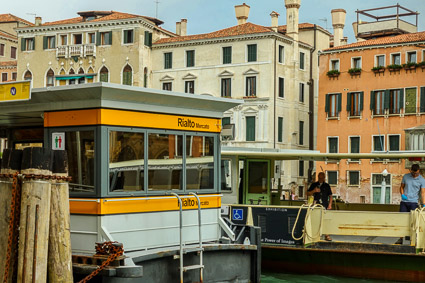 ---
BELOW: As you cruise along the Grand Canal, you'll pass some 200 historic buildings, including many grand palazzi that have been repurposed as government buildings, hotels, apartment houses, and headquarters of international foundations. 
This photo was taken from the rooftop terrace of the Fondaco dei Tedeschi, a former palace for German merchants that dates back to 1228 A.D. and is now a luxury shopping center. (Until fairly recently, it was Venice's main post office.)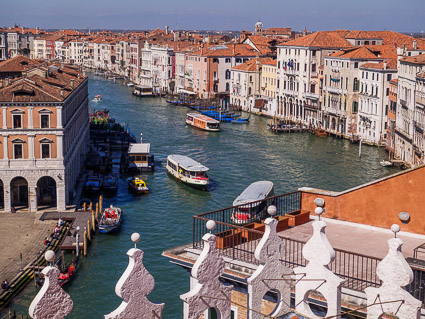 ---
BELOW: A small boat passes the Ca' Vendramin Calergi, a 15th Century palace that now houses the Casinò di Venezia or Venice Casino.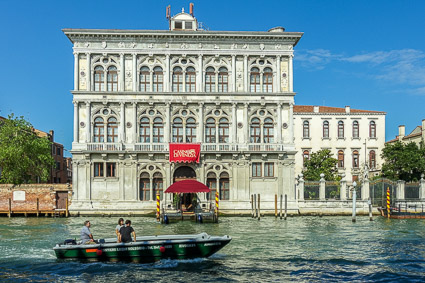 ---
BELOW: Self-propelled barges and an Alilaguna airport boat cruise along the Grand Canal.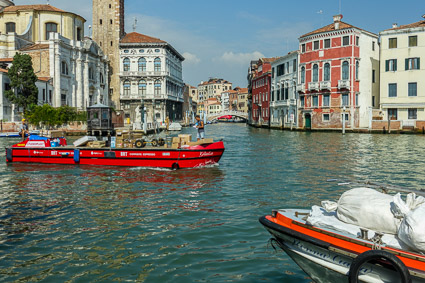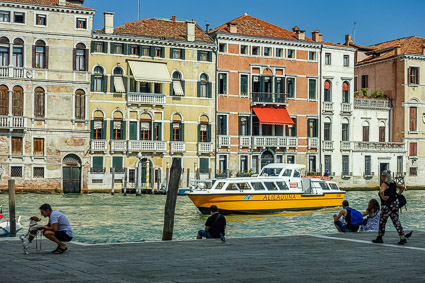 ---
BELOW: Alilaguna Linea Arancio or Orange Line airport boats run from Venice Marco Polo International Airport to the Cannaregio Canal, then turn east and cruise along the Grand Canal almost to the Piazza San Marco. (The boats also operate in the reverse direction.)
Orange Line boats stop at five locations on two sides of the Canal Grande during their journey.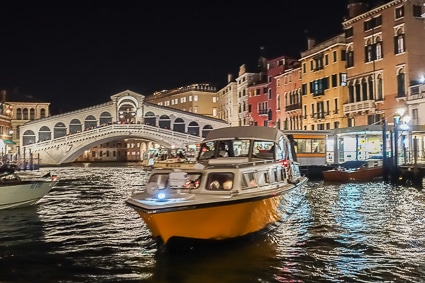 ---
BELOW: Traghetti, which are large gondolas used as ferries, cross the Grand Canal at several points. As a visitor, you'll pay nearly three times the fare that residents do, but the experience and convenience may be worth it.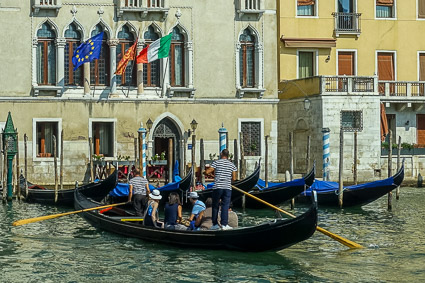 ---
BELOW: This boat landing at Santa Sofia (on the San Marco side of the Grand Canal) is labeled "Gondole," but it's primarily a traghetto pier.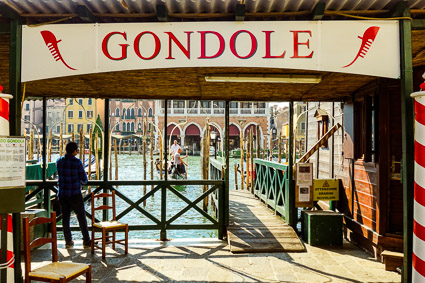 ---
BELOW: You can also hire a gondolier to row you on the Grand Canal. We think the side canals are cozier, but if you don't mind sharing a thoroughfare with water buses and commercial traffic, go for it.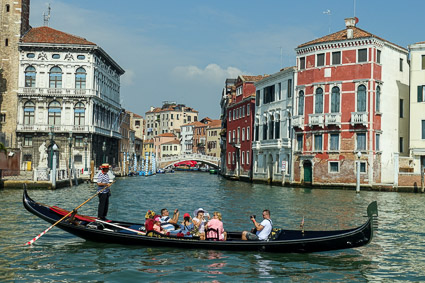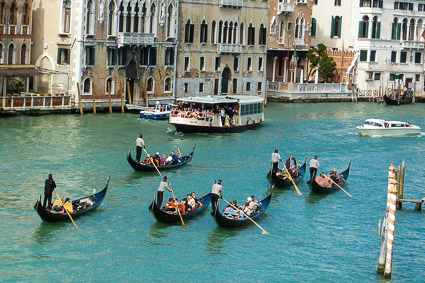 ---
BELOW: You can even bring your dog on a gondola ride. (No dog-paddling allowed.)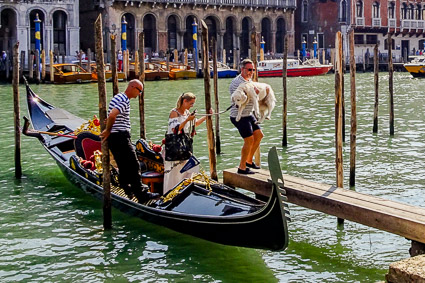 ---
BELOW: Water taxis are another popular mode of transportation on the Grand Canal, especially for small tour groups and guests of hotels that face the canal.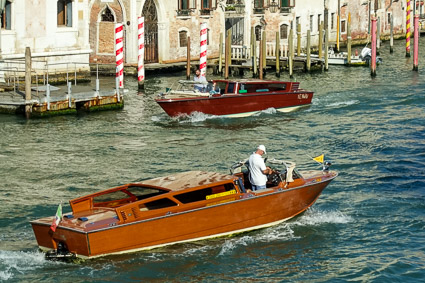 ---
BELOW: There are 43 hotels and B&Bs on the Grand Canal between the Piazzale Roma and St. Mark's Basin.
The Hotel Santa Chiara is especially popular with our readers, thanks to its proximity to airport buses, the Venezia Santa Lucia railroad station, and the People Mover to the Marittima cruise basin and the Tronchetto parking garage.
In this photo of the Hotel Santa Chiara, an ACTV motoscafo water bus passes beneath the Ponte della Costituzione, more commonly known as the Ponte di Calatrava or "Calatrava Bridge." (The bridge, which opened in 2008, is only the fourth bridge ever constructed over the Grand Canal.)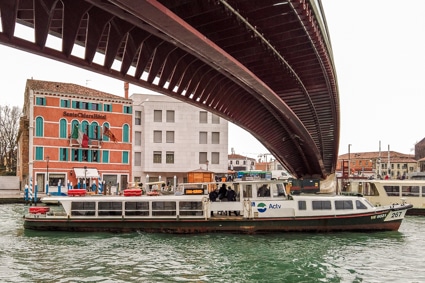 ---
BELOW: As you might expect, many--but not all--of the hotels along the Grand Canal are luxury properties such as the Palazzo Giovanelli e Gran Canal (top) and the Hotel Bauer and Il Palazzo (bottom). The latter is near the end of the Grand Canal where it feeds into St. Mark's Basin.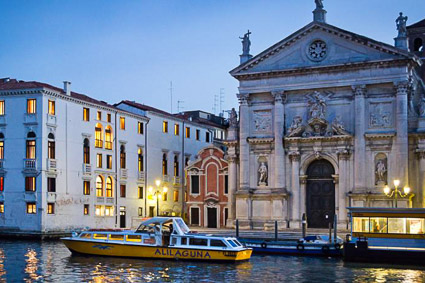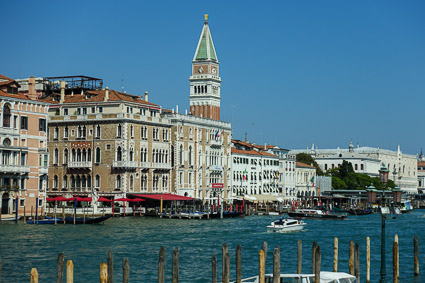 ---
BELOW: A handful of hotels on the Grand Canal, such as the Palazzo Stern and the San Cassiano Ca' Favretto (shown here) have decks next to the canal where you can sit or eat breakfast in good weather.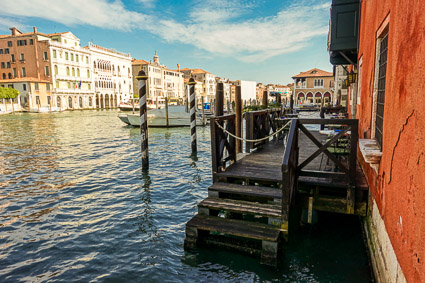 ---
The Canale della Giudecca is a broad stretch of water that separates the island of La Giudecca (often abbreviated to "Giudecca") from central Venice. It has a depth of 12 to 17 meters, or 39 to 56 feet. The canal is a major shipping channel with reinforced seawalls to prevent erosion from ships' wakes.
Although it doesn't carry as much traffic as the Grand Canal does, the Giudecca Canal is usually busy (especially during the day) with ACTV and Alilaguna water buses, tourist boats, water taxis, delivery barges, ferries, ambulances, police boats, private speedboats, and the occasional cruise ship, Financial Police vessel, or Coast Guard cutter.
---
BELOW: The Giudecca Canal starts (or ends, depending on your point of view) near the Marittima cruise basin, which is used by cruise ships of all sizes.
This photo was taken from the deck of La Bella Vita, a 20-passenger hotel barge that cruises in the Venetian Lagoon and Po River delta.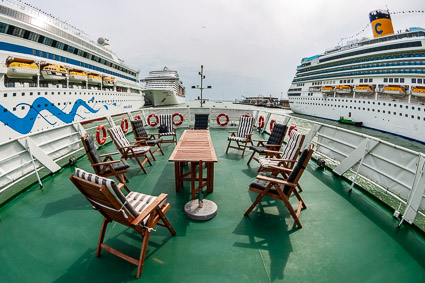 ---
BELOW: Passengers enjoy the view from MSC Poesia's sun deck. The ship has just moved from the Marittima cruise basin (in background) into the Canale di Fusina, which is at the foot of the Giudecca Canal.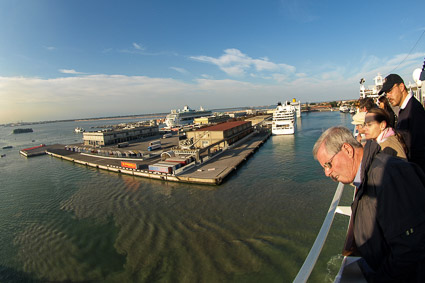 ---
BELOW: A few minutes later, the ship steams past  the Santa Marta and San Basilio cruise piers, which are used by small to medium-sized cruise ships (including river vessels, such as the Uniworld ship in the lower photo).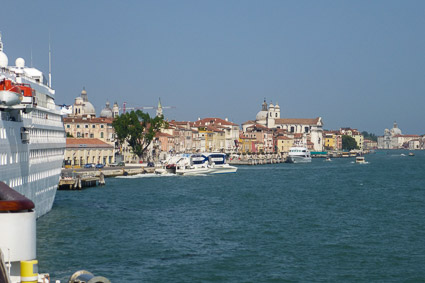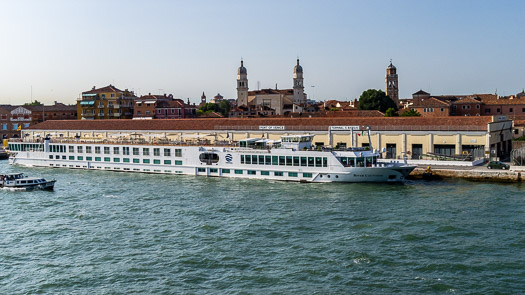 ---
BELOW: This night photo of the canal's opposite bank shows the Molino Stucky, or Stucky Mill, on the island of La Giudecca.
The 19th Century flour mill closed in 1955 and sat vacant for nearly 40 years until it was redeveloped as the Hilton Molino Stucky hotel and a luxury apartment complex.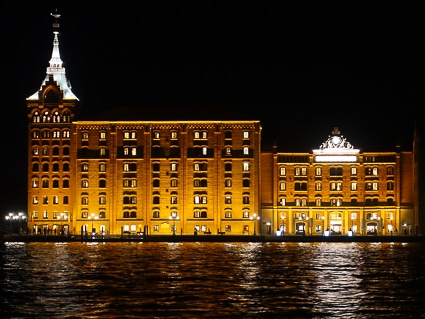 ---
BELOW: A tugboat deadheads toward the Marittima basin, where it will be attached to a departing cruise ship. (As large vessels cruise along the Giudecca Canal, they have tugs at one or both ends to keep them centered in the channel during extreme winds, in the event of rudder failure, etc.)
The smaller boat in the background is an ACTV motoscafo or enclosed water bus.
Note: The perspective of this photo, which was taken from the deck of a ship, distorts the relative size of the boats.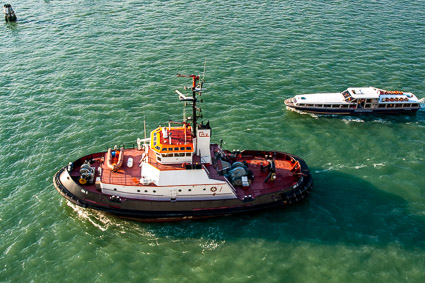 ---
BELOW: An ACTV Line 17 car ferry travels through the Giudecca Canal on its way from the Lido di Venezia (Venice's beach resort) to the parking island of Tronchetto.
On Tronchetto, motorists will disembark from the ferry and drive 4 km or 2.5 to the Venetian mainland via the Ponte della Libertà causeway.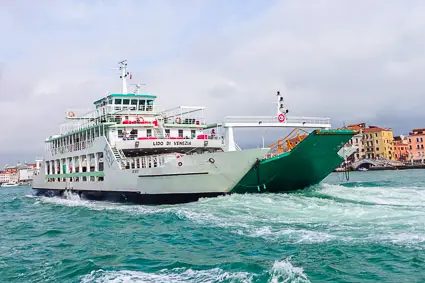 ---
BELOW: The Gesuati Church is about halfway up the Zattere, which is Venice's south-facing pedestrian promenade along the Giudecca Canal.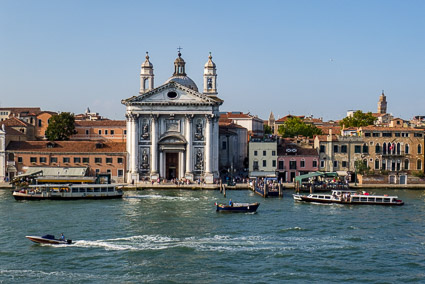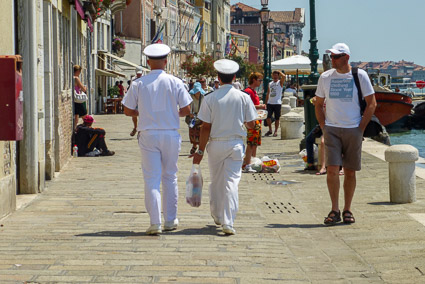 ---
BELOW: The Zattere ACTV waterbus station and a floating pier for Alilaguna airport boats (lower photo) are close to the Gesuati Church.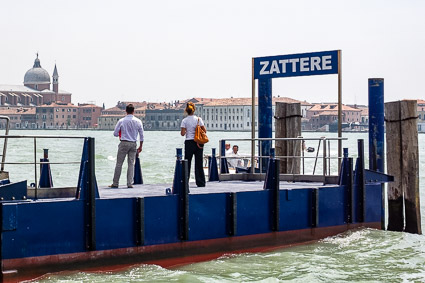 ---
BELOW: In July, the city installs a temporary pontoon bridge across the Giudecca Canal for the Festa del Redentore, or Festival of the Redeemer. The bridge was being assembled when we took this photo from a passing ship.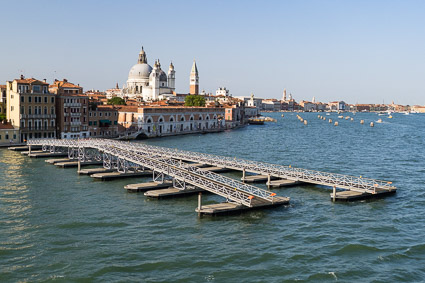 ---
BELOW: The Port of Venice welcomes several hundred cruise ships a year, which averages out to fewer than 10 ships a week year-round. Most cruises take place between April and October, with the majority of arrivals and departures on weekends.
In these two photos, Celebrity Solstice passes a waterside restaurant and Norwegian Jade approaches St. Mark's Basin from the Giudecca Canal.
(Note: In August of 2021, after these photos were taken, the Italian government moved midsize and large cruise ships from the Giudecca Canal to the "Canal of Oils," a cargo-shipping channel that leads to industrial piers in Venice's mainland district of Marghera. The only cruise ships that continue to cruise through the Giudecca Canaland St. Mark's Basin are river vessels and small oceangoing ships of less than 25,000 GRT.)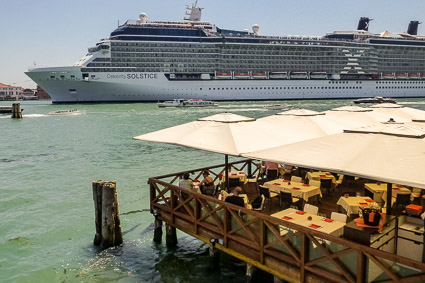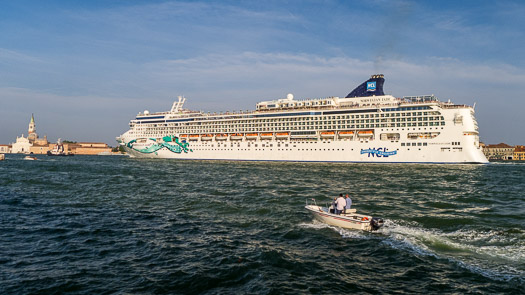 ---
The Canale di Cannaregio is worth knowing about for two reasons:
It's used by several ACTV waterbus lines that run in a circular route around the city, and by Alilaguna Orange Line airport boats.

You'll cross the Cannaregio Canal via the Ponte delle Guglie if you follow the main walking route from Venezia Santa Lucia Railroad Station to the Rialto Bridge and the Piazza San Marco.
---
BELOW: The Cannaregio Canal begins (or ends) at the Venetian Lagoon, or Laguna di Venezia, which you can see in the background.
In this photo, an Alilaguna Linea Arancio boat from Venice Marco Polo Airport cruises through the Cannaregio Canal on its way to the Grand Canal. It will call at Guglie, one of several waterbus stops along the canal's 800-meter or half-mile length.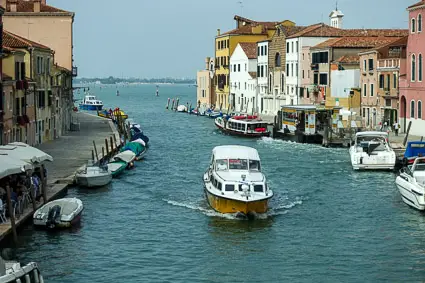 ---
BELOW: The Canale di Cannaregio is narrower than Venice's other canals, with a width of 22 to 27 meters (72 to 89 feet). However, it's wide enough for water buses to pass each other in the busy canal.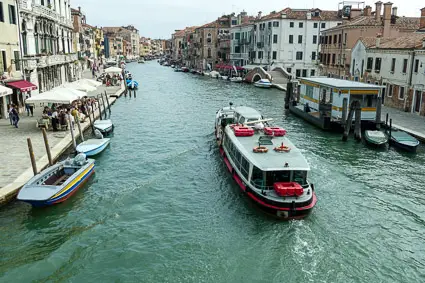 ---
BELOW: The Cannaregio Canal's low-lying fondamente, or pavements, often flood during acqua alta or "high water."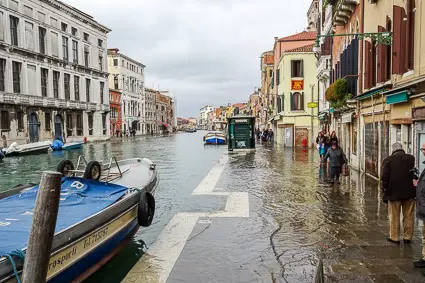 ---
BELOW: The Cannaregio Canal feeds into the Grand Canal just beyond the Ponte delle Guglie, which is on the main pedestrian route from the railroad station to the Ponte di Rialto and the Piazza San Marco.
In this photo, an Alilaguna Orange Line airport boat squeezes under the Ponte delle Guglie during an unusually high storm tide or acqua alta. It will turn left when it reaches the Grand Canal, which is just a short distance beyond the bridge.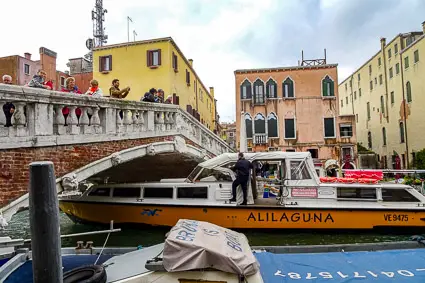 ---
Most of Venice's 150 canals are neighborhood canals or "side canals." Some of these are wide enough for water taxis, while others are limited to gondolas and other private boats.
In Venice, the typical small to medium-size canal is called a "rio" (plural: "rii"). As you cross footbridges on Venice, look for markers on buildings with canal names such as "Rio Marin" or "Rio del Palazzo."
---
BELOW: A tourist enjoys a gelato cone on a bridge over a canal used by gondole.
Like many rii in Venice, this canal--or at least this section of it--runs between the backs of buildings and has no fondamenta or pavement alongside (except for a small connector sidewalk just beyond the bridge).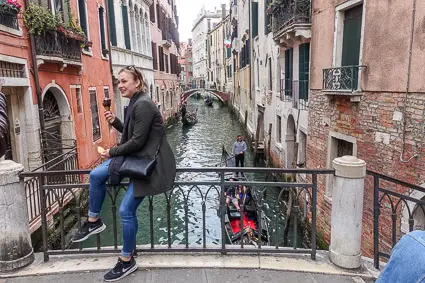 ---
BELOW: In our opinion, neighborhood canals are better than the Grand Canal for gondola rides--at least if you're looking for a romantic experience away from constant barge, speedboat, and waterbus traffic.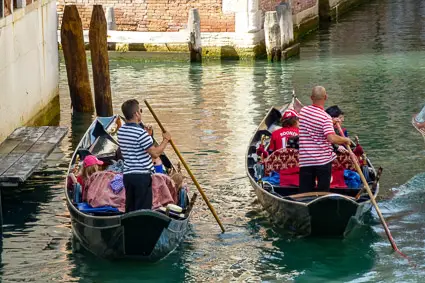 ---
BELOW: Many of Venice's gondolas are built and maintained at the Squero di San Trovaso in Dorsoduro, next door to the San Trovaso Church.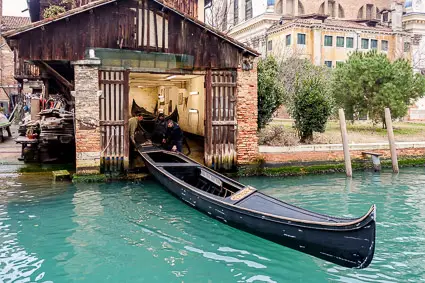 ---
BELOW: At the Squero Vecchio, another of Venice's many boatyards, two private gondolas undergo maintenance.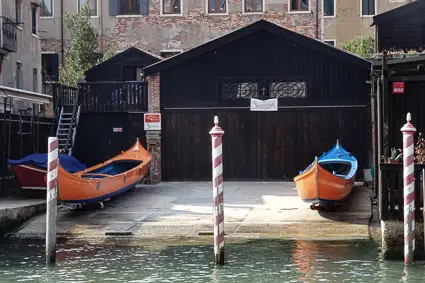 ---
BELOW: An ambulance travels through a neighborhood canal in Venice. (You can see the canal's name on the building wall at top right.)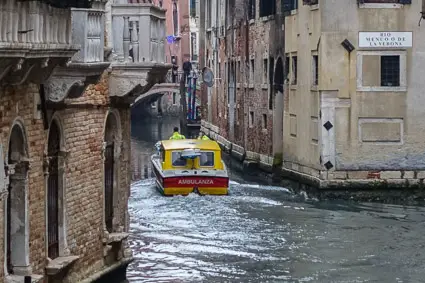 ---
BELOW: Venice's Vigili del Fuoco, or fire department, operates out of a firehouse near Ca' Foscari University.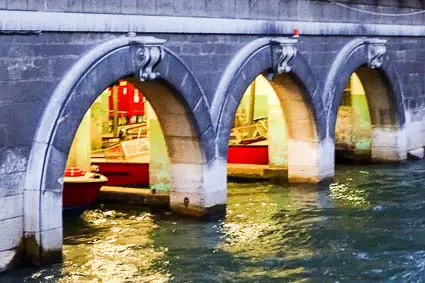 ---
BELOW: Venetian firefighters visit a campo, or square, during a fire call or training exercise.
In addition to putting out fires, Venice's firefighters perform miscellaneous duties such as running flags up flagpoles on national holidays and fishing dead bodies out of canals.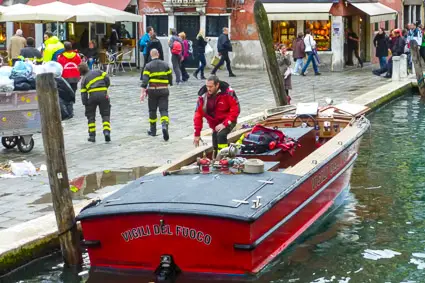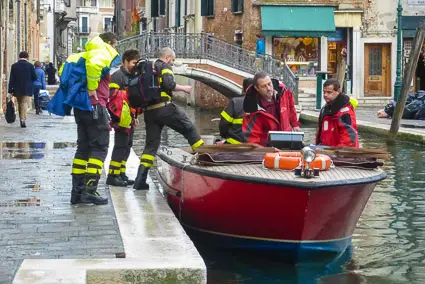 ---
BELOW: Spazzini, or sanitation workers, haul away garbage and recyclables in Venice. Their carts are emptied into self-propelled barges at strategic points along the canals.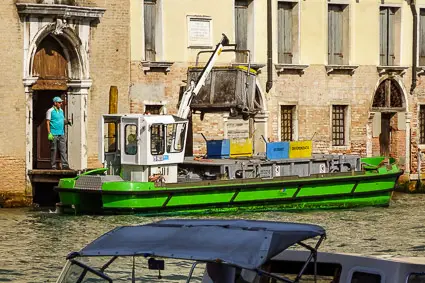 ---
BELOW: In Venice, barges are used to deliver everything from small packages to furniture, restaurant supplies, hotel laundry, and construction materials.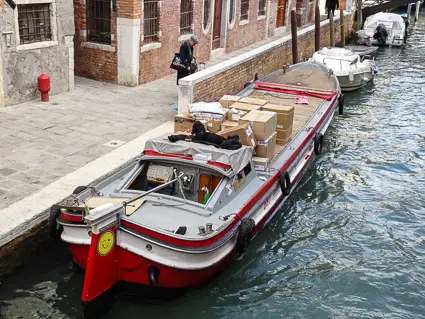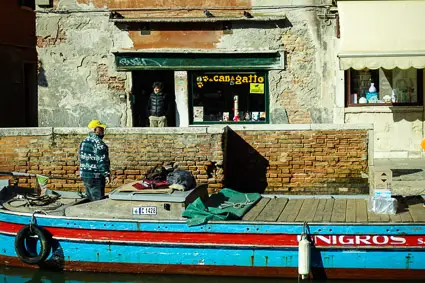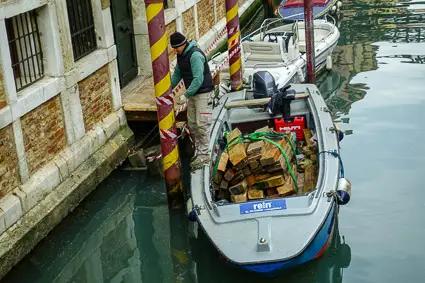 ---
BELOW: Venice has several produce barges or floating greengrocers where you can buy vegetables or fruit. One is in the San Pietro neighborhood of Castello; another--shown here--is next to the Ponte dei Pugni or "Bridge of Fists" (on right), where bareknuckle tag teams competed in group boxing matches during the 17th Century.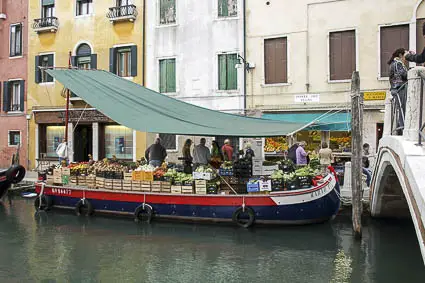 ---
BELOW: Some canals are extremely narrow. This rio in Cannaregio is barely wide enough to accommodate a construction worker's boat.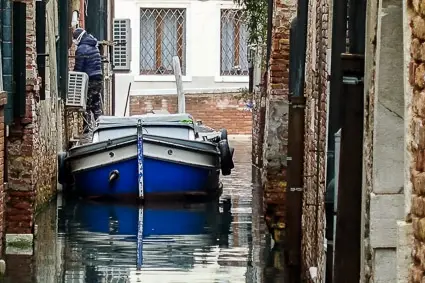 ---
BELOW: The owner of this boat failed to check the tidal forecast when tying up his boat.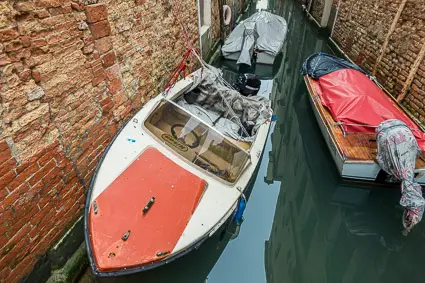 ---
BELOW: If your boat doesn't have GPS (a.k.a. satnav), let your dog sniff out the route for you.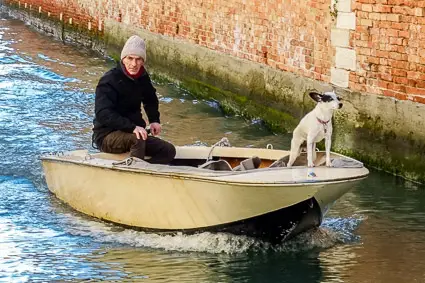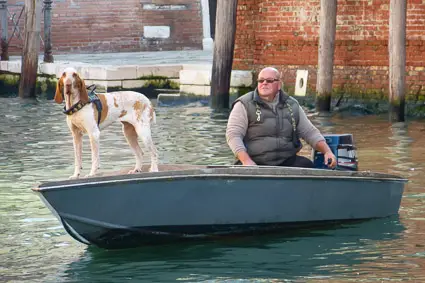 ---
BELOW: Traditional Venetian-style oarsmanship is a popular pastime among locals, expats, and the occasional tourist. (In Venice, real men--and real women--stand while rowing.)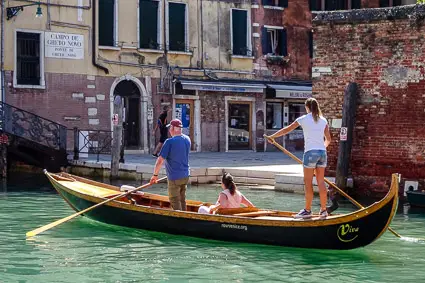 ---
BELOW: Kayak tours have become a staple of the Venice tourism scene. Whether that's desirable is a good topic for debate.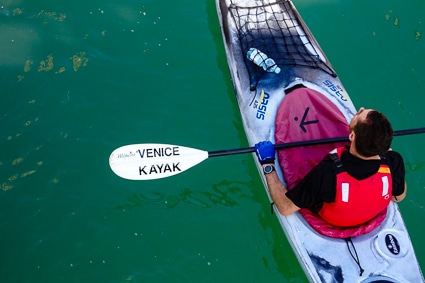 ---
BELOW: When winter arrives in Venice and kayakers go home, local boat owners have other annoyances to occupy their time. (Venice's canals seldom freeze, but snow isn't uncommon.)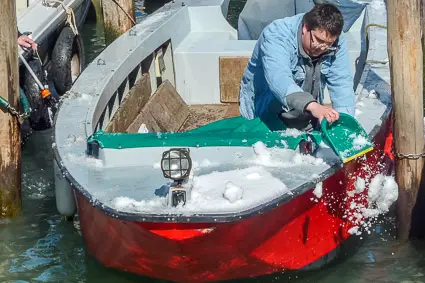 ---
BELOW: A boy watches canal fish in Venice's Ghetto.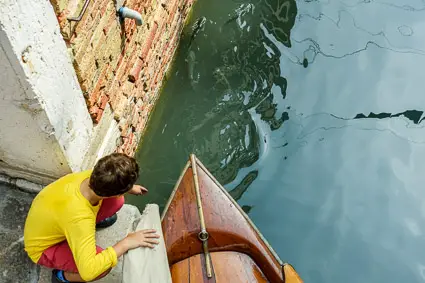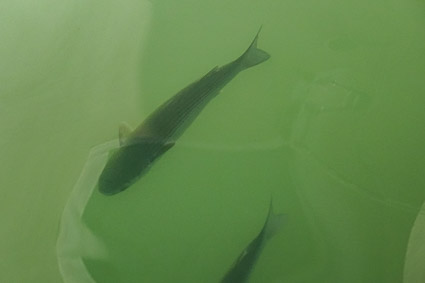 ---
BELOW: We don't know if fish nibble on moss, but if they do, there's plenty for them to eat on the steps leading into Venice's canals. (When the tide is out, as it is here, more steps--and more moss--are exposed.)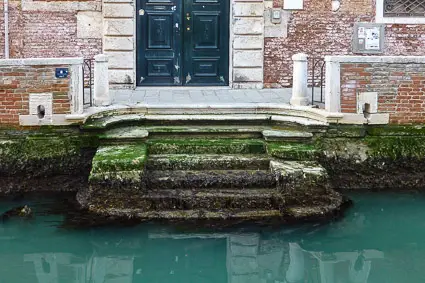 ---
---
Water quality and sanitation
Venice's canals may be the world's prettiest sewers. Most residential buildings still dump human waste, laundry detergent, and other pollutants into the canals directly or via 16h Century tunnels called "gatoli." (For more on this, see "Sewage in Venice: How Does it Work?" by Luisella Romeo.)
It's worth noting that in one scientific study over a three-year period, 78 percent of Venice's canals tested positive for Hepatitis A virus and enteroviruses.
As bad as this sounds (and it is bad), matters are helped slightly by two factors:
The tides normally wash Venice's canals daily, pulling much of the sewage into the Adriatic Sea to decompose or get deposited on the beaches of neighboring towns.

The water in Venice's canals and lagoon is a mixture of freshwater and seawater. Defenders of the status quo insist that the brackish water's salt content helps to keep bacterial levels under control.
---
BELOW: A dead pigeon and what appears to be bread (or perhaps something less salubrious) float in a Venice canal.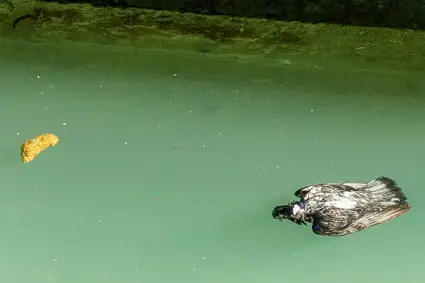 ---
BELOW: This photo is from an old blog post titled "Dipping in the Doo-Doo." Our caption reads, "A visitor enjoys a fecal footbath."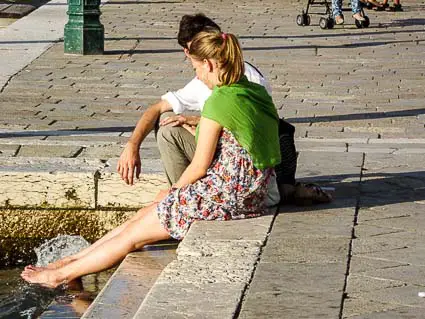 ---
BELOW: Not all of Venice's sewage goes directly into the canals. The city has an estimated 7,000 septic tanks (used mostly by hotels, government buildings, museums, and small businesses) that capture the output of employees and customers.
As you walk around the city, you may see pozzo nero ("black well") boats collecting sludge from those septic tanks.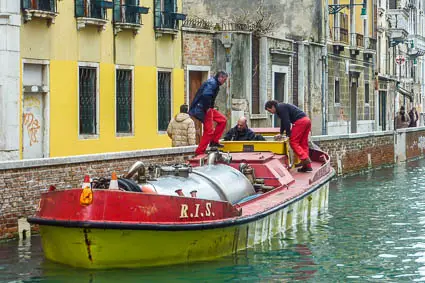 ---
BELOW: Typically, a pozzo nero boat moors at a building's water entrance or at a landing place near the septic tank that needs to be emptied. The boat's crew runs hoses or pipes from the boat to the septic tank. A pump on the boat then sucks up sludge for transportation to a waste-treatment plant.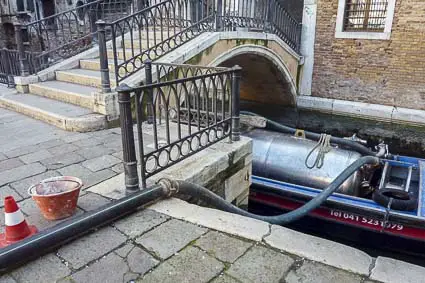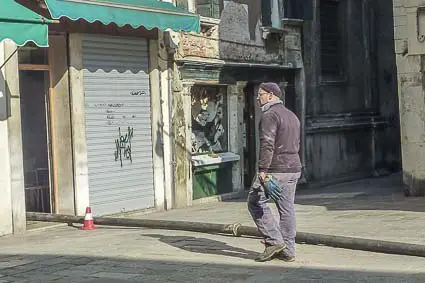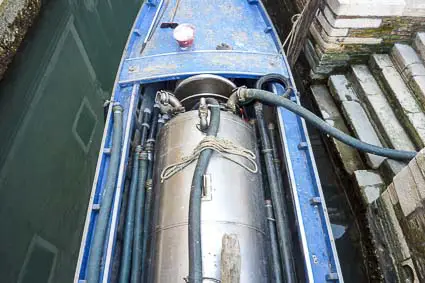 ---
Most of Venice's canals are fairly shallow: perhaps a meter or two in depth, or even less during exceptionally low tides (which, like acque alte or storm tides, have become increasingly common in recent years).
Without regular maintenance, sedimentation and sewage sludge can make the shallowest canals unnavigable for short periods.
Draining and cleaning out canals is the Venetian equivalent of repaving worn-out roads. As a bonus, drained canals give building owners a chance to repair stone foundations and replace rotted wooden pilings. 
---
BELOW: In a drained section of a Venice canal, a cofferdam holds back water so workers clean out accumulated muck and trash. (For more on this, see our article on Maintaining Venice's Canals.)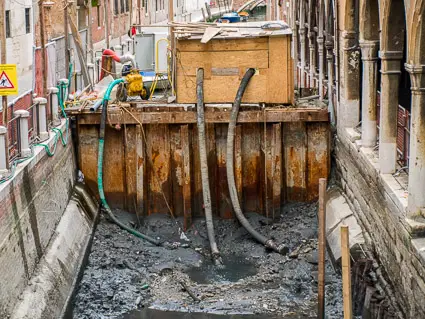 ---
BELOW: Most of Venice's buildings sit on top of wooden pilings like these. When the pilings are exposed to air, they decay and must be replaced by new pilings.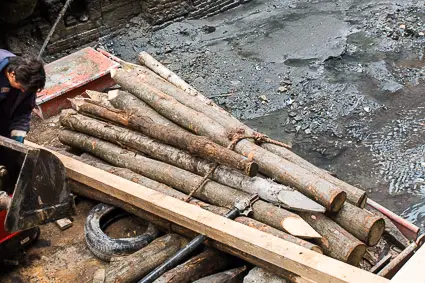 ---
Also see: Bridges of Venice, Italy
---
---
CREDITS: Photos are by Cheryl and Durant Imboden. The canals map uses base data from the Comune di Venezia and Regione Veneto under license IODL-2.0. The sestieri map is based on a map by Giovanni Fasano (see original file and license).