Venice > Sightseeing > Bridges
Bridges of Venice, Italy
Venice has more than 400 bridges that bind its nearly 120 islands into a cohesive city center.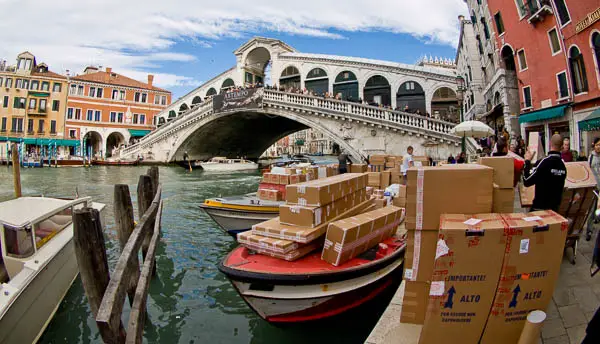 ABOVE: The Rialto Bridge is the most famous of the bridges that span Venice's 150 canals.
---
As we point out in our "Canals of Venice" article, the city of Venice, Italy isn't just one chunk of land: It's a cluster of nearly 120 islands that lie roughly 4 km or 2.5 miles off the shores of mainland Italy in the Venetian Lagoon.
The islands of the centro storico, or historic center, are connected by nearly 400 footbridges that have been built--and, in some cases, replaced repeatedly--over the last millennium. Footbridges also exist on other islands in the Comune di Venezia or Munipality of Venice, such as Murano, Burano, and the Lido di Venezia (Venice's beach resort).
Most of Venice's footbridges are high enough to allow clearance for boats--in some cases, only for small boats such as delivery barges and gondolas, and in other cases for water buses and larger boats such as workboats with hydraulic cranes.
As you walk around Venice, you'll encounter a variety of bridge types:
Wooden bridges, which are made of heavy planks with open steps.

Stone bridges, which usually have heavy halustrades and steps that are edged in white Istrian stone for better visibility in the dark. (The pavements of such bridges can consist of textured stone or, on some cases, asphalt.)

Metal bridges. Only a handful of these exist, and they're all relatively new.
The vast majority of bridges in Venice are fairly low, making them manageable for frail or slow-moving pedestrians. A few, such as the bridges that cross the Grand Canal, have more steps and are best avoided by visitors with mobility problems.
Tip: If you're looking for a hotel that's easy to reach on foot (especially with heavy luggage), see our "How Many Bridges to Cross?" hotel listings. These listings focus on hotels that close to the city's major entry points and Alilaguna airport-boat stops.
---
Next page: Ponte di Rialto (Rialto Bridge)
---
---
---
About the author:

Durant Imboden has written about Venice, Italy since 1996. He covered Venice and European travel at About.com for 4-1/2 years before launching Europe for Visitors (including Venice for Visitors) with Cheryl Imboden in 2001.

PC Magazine has called this "the premier visitors' site for Venice, Italy." Over the years, it has helped more than 30 million travelers. For more information, see About our site, our Europe for Visitors press clippings, and our reader testimonials.
---