Venice > Food & drink > Dining in the Veneto
Dining in the Veneto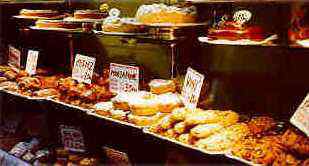 The Veneto region isn't a gastronomic mecca like Tuscany or Emilia-Romagna, although you can eat pleasantly enough if you're willing to sample the local specialties.
You don't need to go upscale, either. Just because your parents' generation aspired to dine in Harry's Bar or buy their gelato at the Caffè Florian doesn't mean you're obliged to do the same.
Meals
Breakfast traditionally includes rich Italian coffee with hot milk, a hard roll or two, and a sweet cornetto (croissant) filled with a dab of peach or apricot jelly. (Most Venice hotels now serve American or Northern European-style buffet breakfasts.)
Lunch is taken seriously in Italy, so don't grab a table in a sit-down restaurant unless you're willing to order a full meal. Instead, visit one of the many snack bars where you'll find sandwiches displayed in the window. Point at a sandwich, ask for an ombra (glass of wine), and grab a few inches of space at the crowded bar--unless your feet are sore from sightseeing, in which case you might want to pay a higher price for table service.
Another possibility is to buy rolls, sandwich meats, cheese, drinks, and pastries at neighborhood shops and have a picnic in your hotel room. (Just don't try picnicking in the Piazza San Marco, where it's illegal to loiter while eating unless you're at a café restaurant table.) Fruit is hard to resist, even in winter, at the street markets near the Rialto Bridge or in the local squares.
---
BELOW: A Venetian fruit and vegetable stall.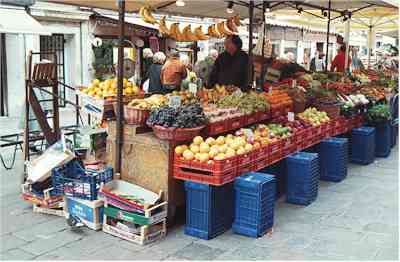 ---
Dinner is likely to be your most expensive meal of the day. You can economize with pizza,and the flat-rate menu turistico can be a good deal if you have a modest appetite. Still, it's wise to splurge at least a few times during your visit, if only to try regional specialties such as:
Risi e bisi. A soft risotto (creamy rice dish) with peas and bacon.
Spaghetti alle vognole. Pasta with clams and hot sauce.
Fritto di mare. A deep-fried, forensically challenging assortment of fish, shrimp, clams, and tentacled creatures.
Baccalà. An exquisite creamed dish made from dried salt cod. (Recipes vary; "baccalà" refers to the basic ingredient, which looks like a piece of cardboard before being soaked, desalted, and cooked.)
Pasta e fagiole. A thick soup made with beans and pasta. To enjoy it as the locals do, add a splash of olive oil.
Radicchio alla griglia. Grilled red endive from nearby Treviso, on the mainland.
Risotto alle seppie. It looks like licorice, but the rice's black coloring is ink from a cuttlefish.
If you feel an irresisitible craving for American-style fast food, you'll find a McDonald's in town. (There's even a Hard Rock Café for tourists who wish they were in Vegas instead of Venice.)
Cover charges and tips
In a restaurant, your bill may include a small pane e coperto (bread and cover) charge. This charge is waived if you order the tourist menu.
You may also find a service charge of 10 percent or more on your bill, in which case a very modest tip is appropriate. (For more advice on gratutities, see the tipping guidelines on our Venice Travel FAQ: Money and Tipping page.)
Caution: A few restaurants and many bars refuse credit cards, so don't go out for the evening without a stash of euros in your money belt.
A dining guidebook
Chow! Venice
Shannon Essa and Ruth Edenbaum have written a lively, informative guide to Venetian restaurants, bars, and cuisine.
Archived restaurant reviews
All' Antica Mola
This pleasant restaurant in Cannaregio has good food and prices, with outdoor tables in nice weather.
Gam Gam
The menu is Israel and Italian, the staff is Hasidic, and the food is first-rate at this kosher restaurant in the Old Ghetto.
Taverna San Trovaso
The San Trovaso is one of Venice's best restaurant values. The taverna attracts a mixed clientele of Venetian families, students, and tourists.
Zucca
The name means "pumpkin," and the chefs do great things with vegetables (along with meat and fish).