Luna Hotel Baglioni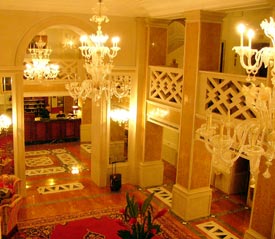 ABOVE: The reception desk of the Luna Hotel Baglioni is visible beyond the two-story atrium lobby. INSET BELOW: Inlaid marble floor, room key.
By Durant Imboden
The Luna Baglioni Hotel, a member of Italy's prestigious Baglioni group, is said to be the oldest hotel in Venice. The Knights Templars are known to have stayed in a building on the Luna's site in 1118 during the Crusades, and Venetian archives show the existence of the "Osteria Luna" in the 13th Century. The "Locanda della Luna," or Luna Inn, was serving overnight guests in the 15th Century, and portions of the current building's decor predate the fall of the Venetian Republic in the late 1700s.

Despite its illustrious heritage, the Luna Hotel Baglioni is less well-known among English-speaking visitors than are some of its competitors in Venice's five-star hotel category. That may be just fine with its devoted cadre of well-heeled North American, British, and European guests, some of whom visit the Luna several times a year to enjoy tranquility, privacy, and unaffected luxury within a minute's walk of the Piazza San Marco and Venice's most elegant shops.

As a bonus, the Luna Hotel Baglioni has a flood-free lobby--even during the winter, when acqua alta tides force employees to clear out lobby rugs and furniture at some of Venice's most prestigious hotels. You may need galoshes to reach the Doge's Palace or Missoni, but within the marble- and silk-paneled walls of Venice's oldest inn, you can settle back with dry feet and a dry Martini until the waters have receded and you're ready to surrender your weighted, tasseled key to the concierge.
Next page: Single, double, and twin rooms
---
---
---
2nd inset photo: Baglioni Hotels.