Before you choose a hotel, vacation apartment, or other place to stay in Venice, read our advice--and especially our No. 1 Hotel Warning. (In a city of canals, pedestrian streets, and footbridges, location should be your top priority.)
For visitors on a tight budget, it might seem that the question of where to stay in Venice is best answered with the word "Don't."
It's true that Venice's hotels have a reputation for being more expensive than their counterparts in other Italian cities, or in the popular mainland suburb of Mestre.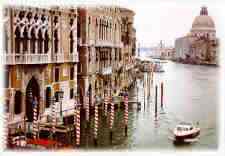 There are good reasons for Venice's relatively steep hotel rates:
Every towel, bar of soap, roll of toilet paper, bag of coffee, and loaf of bread must be delivered to your Venetian hotel by handcart or boat. Sewage may be stored in an underground cesspit and removed by barge. In short, running a hotel in Venice is an expensive proposition, so it shouldn't be surprising that Venetian hotel rates aren't cheap.
Still, there is some good news: Quoted rates include VAT. Breakfast is often included, too. When it isn't, you can save on breakfast by having your coffee and croissant at the counter of a neighborhood bar or café.
Please note:
Many of the links on our accommodations pages point to hotel Web pages at Booking.com, Europe's leading secure reservations service. (We also link to the hotels' own Web sites in most cases.) Rates from Booking.com tend to be lower than official hotel "rack rates," and if you're lucky, the hotelier will upgrade you when a better room is available (since hoteliers know that booking sites invite their customers to rate hotels or submit reviews).

The city of Venice charges a tourist tax that averages several euros per night, per person, for the first five days at a hotel, B&B, hostel, or vacation apartment. The exact amount depends on location, the class and type of accommodation, and other factors. Unlike VAT, the tax is added to your bill instead of being included in the rate, and you'll often need to pay it in cash. (The tax is an annoyance, especially in a city that already charges outrageous fees for tourists who use water buses or public toilets, but it shouldn't be enough to affect your hotel plans.)
Next page: Hotel areas, when to book