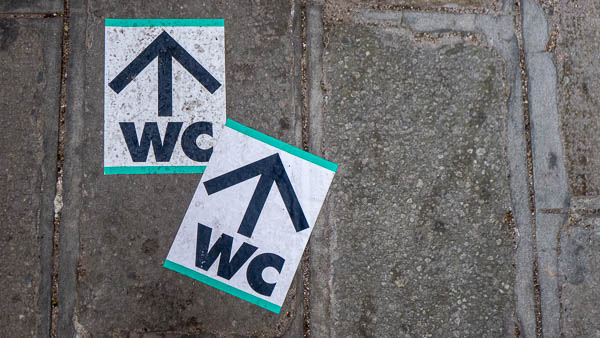 Venice is often criticized for its shortage of toilet facilities. To some extent, the criticism is justified--after all, the city welcomes millions of tourists per year, yet it has only a handful of public WCs scattered around the half-dozen sestieri, or districts, that make up the historic center. It doesn't take a plumber to realize that the existing facilities are going to be overwhelmed when 100,000 tourists show up with their water bottles on a typical summer day.
One could argue--unconvincingly--that building enough toilets for the masses would require destroying many of the buildings and monuments that tourists come to see. Large-scale deployment of lavatories might also displace even more Venetians than the 1,200 who already flee to the cheaper, less crowded mainland in a typical year (maybe in search of a place to pee).
If it's any consolation, local authorities have promised to build more public restrooms as part of an effort to improve tourist facilities. A few years ago, the city doubled the prices of using public WCs in what critics have called a "toilet tax" on visitors and residents.
---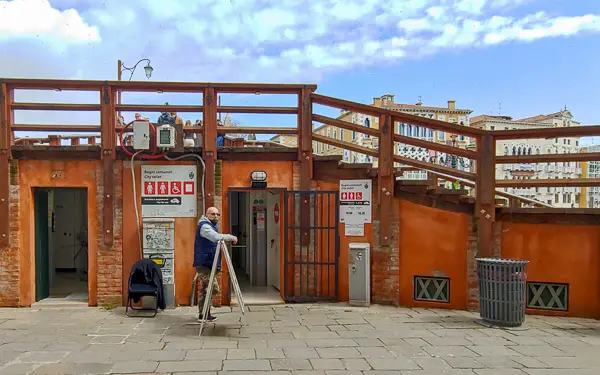 ABOVE: This WC is at the foot of the Accademia Bridge in Dorsoduro, near the Accademia vaporetto station.
---
Here's how to make the best of a poor situation:
Know where to go. See the list below.

Go when you have the opportunity. Use your hotel bathroom before you start the day's sightseeing. During a museum visit, look for the restroom. At better restaurants and cafés, use the loo before you leave.

Carry change for toilets, which often have turnstiles at the entrances. Public WCs of the Venice sanitation authority charge a mind-boggling €1,50. Some larger museums (such as the Doge's Palace) have attended restrooms with posted fees. In other museums and galleries, toilets are often free.

Pay attention to spelling. "Signori" means "men," and "Signore" means "women." Fortunately, many restroom signs use icons instead of text.

Don't be fazed by unisex facilities. Many public WCs, museum toilets, etc. don't have separate restrooms for men and women. Instead, an attendant directs you to the next vacant toilet stall, or--in some cases--banks of men's and women's toilets face a common row of washbasins. This isn't as alarming as it may sound; unisex restrooms normally don't have urinals, and toilet stalls are enclosed from floor to ceiling, with solid walls and doors.
Locations of public toilets
Venice's public WCs are normally open during the day and early evening; hours vary with the day and season. See the official map, or search for the restroom closest to you.
Official WC descriptions include information such as the number of stalls and urinals, whether disabled toilets and "nurseries" (diaper-changing facilities) are available, etc.
---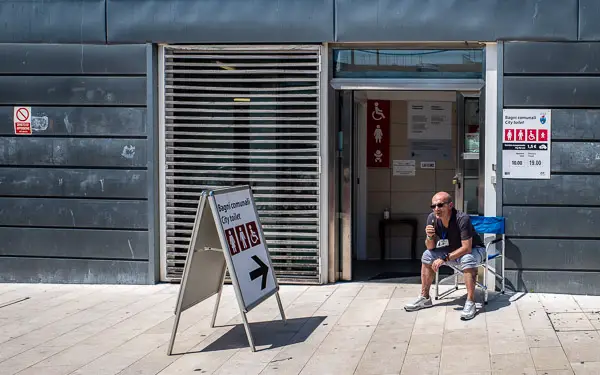 ABOVE: An attendant collects fees for the spotlessly clean WC on the Lido di Venezia, next to the Lido Santa Maria Elisabetta vaporetto station.
---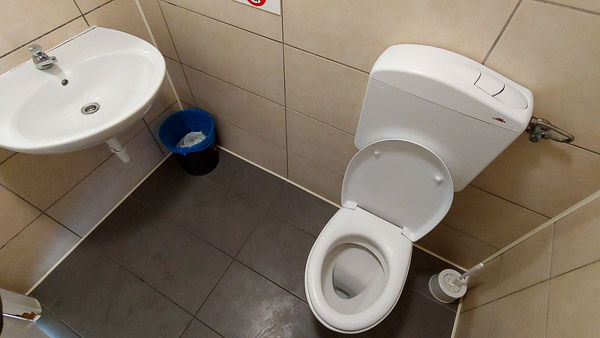 ABOVE: In the Lido WC, each toilet stall has its own sink.
---
Here are some of the most popular toilets in the city:
---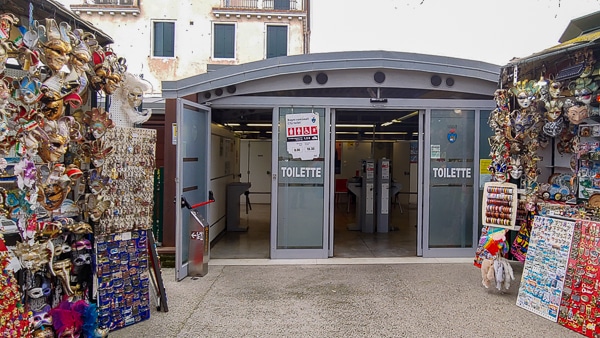 ABOVE: To reach the public WC in Piazzale Roma, look for a row of souvenir stands at the tree-lined end of the square.
---
Tip:
Venice, Mestre, and Murano have a few department stores and shopping centers with public toilets for customers. (Sadly, Venice's Coin department store--a convenient spot for a quick WC visit--is no more.)

If you're in Dorsoduro, head for Ca' Rezzonico near the Ca' Rezzonico vaporetto stop and use the impeccably maintained toilets in the lobby. The restrooms are free, even if you don't visit the museum upstairs, and they're located next to the gift shop and the cloakroom on the ground floor. (While you're at it, buy a ticket to enjoy this museum of 17th Century Venice in a restored palazzo.)
---
About the author:

Durant Imboden has written about Venice, Italy since 1996. He covered Venice and European travel at About.com for 4-1/2 years before launching Europe for Visitors (including Venice for Visitors) with Cheryl Imboden in 2001.

PC Magazine has called this "the premier visitors' site for Venice, Italy." Over the years, it has helped more than 30 million travelers. For more information, see About our site, our Europe for Visitors press clippings, and our reader testimonials.
---