Venice > Planning > Top 11 tourist mistakes > #7
Top 11 Tourist Mistakes in Venice, Italy (and how to avoid them)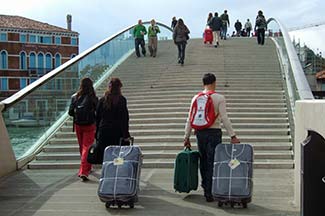 ABOVE: Tourists prepare to haul their large suitcases over the Calatrava Bridge, which links Venice's Santa Lucia Railroad Station with the Piazzale Roma.
Mistake #7: Overpacking.

The admonition to "travel light" may be a cliché, but it's advice worth heeding--especially when you're traveling to Venice, where private transportation is expensive, vaporetto water buses are often jam-packed, and walking usually requires hauling your suitcases over at least a few of the city's 400+ footbridges.
If you're in a tour group, your bags are likely to be delivered to your hotel by the Cooperativa Trasbagagli Venezia, which transports luggage in bulk for travel companies. But as as independent traveler, you'll need to fend for yourself.
Our advice: