Transportation from the Venice Cruise Port
Page 4
Continued from page 3
Transportation from Sette Martiri

The Riva dei Sette Martiri is a waterfront promenade in the Castello district, close to the Gardini Publicci (Venice's largest park) and the grounds of the Biennale international art exhibition. The Port of Venice has built a pier along the riva that's used by three types of ships:
River vessels (such as Uniworld's La Venezia or CroisiEurope's Michelangelo), which often spend several days or nights parked along the waterfront during cruises in the Venetian Lagoon and Po River Valley, and...

Small ocean-cruising ships that spend the day in Venice during itineraries that begin and end in other ports.

Visiting megayachts, naval training ships, and other large private vessels.
Cruise embarkation and disembarkation always take place at the Marittima basin or the San Basilio pier, so you needn't worry about how to reach the airport, the railroad station, or hotels from Sette Martiri.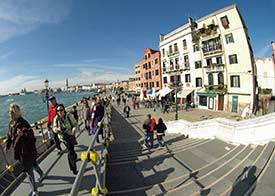 ABOVE: A fisheye view of a bridge between the Sette Martiri pier and the Piazza San Marco.
How to reach the city center:

From Sette Martiri, getting to the main tourist attractions is easy: Just step off the ship, turn left as you leave the pier, and walk 15 or 20 minutes along the waterfront until you reach the Doge's Palace, St. Mark's Basilica, and the Piazza San Marco with its Campanile or bell tower.
The broad stone promenade is flat and smooth except for half a dozen bridges, which sometimes (but not always) have temporary wooden ramps installed for the convenience of marathon runners, wheelchair users, and parents with strollers.
Along the way, you might want to stop at the Museo Storico Navale, or Naval History Museum, which faces the Campo San Biagio just before the second bridge. Also take time to walk inland, where you'll find many attractive squares, churches, streets, and shops.

If you're in Venice during an odd-numbered year, the Biennale modern-art exhibition is well worth at least a few hours of your time. Most of the national pavilions are in the main grounds near the Sette Martiri pier, but your ticket will also admit you to other pavilions and galleries--including those in Arsenale, Venice's historic shipbuilding complex (which is within easy walking distance of Sette Martiri).
We suggest buying a good map before leaving the waterfront and the Piazza San Marco. Venice's layout can be confusing, and it's easy to walk around in circles if you don't know where you are. (See our Walking in Venice and Venice Street Maps articles for helpful advice.)