---
Venezi'Arte
Page 2
Continued from page 1
More Venezi'Arte photos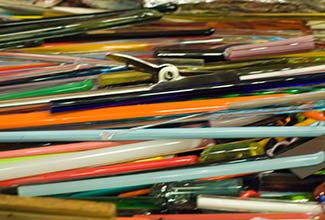 Venezi'Arte's beads or perle are made from expensive Murano glass "canes" in various colors and styles.
---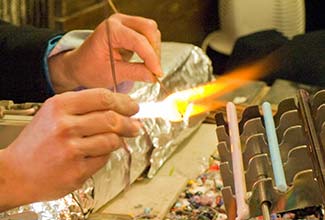 Muriel Balensi uses a gas blowtorch--a kind of horizontal Bunsen burner--to melt glass. This "lampwork" process dates back to the mid-19th Century, when oil-fired lamps (which had been used previously) were replaced by cleaner and hotter gas lamps.
---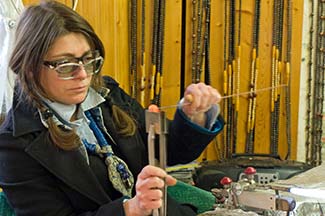 Ms. Balensi grasps a completed bead with a pair of tongs while making a hole in the softened glass with a rigid wire. (In contrast, industrially-made beads are formed around a wire, which is eaten away with acid to leave a hole.)
---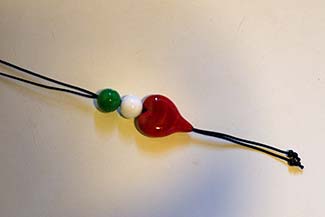 This simple, inexpensive necklace was made to order for Valentine's Day, using one of several heart-shaped "pearls" from Ms. Balensi's tray of finished beads.
Back to: Venezi'Arte - Page 1
---
---