---
Parking in Venice
Where to park in Venice, on the Italian mainland,
or on the Lido di Venezia.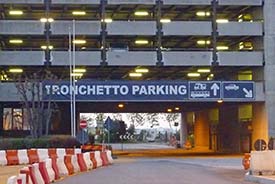 ABOVE: The main entrance to the Tronchetto parking garage next to Venice's historic center.
By Durant Imboden
Venice is a city of pedestrians and boats. When you come to Venice's historic center, you'll need to park your car until you're ready to leave.
Your Venice parking options fall under four headings:
At the edge of the historic center, in the parking facilities on Tronchetto (an artificial island that was designed for parking) or at the Piazzale Roma (the last stop for cars, taxis, and buses that arrive in Venice).

On the mainland, beyond the causeway that connects Venice with Mestre, Marghera, Marco Polo Airport, and other locations on "terrafirma" (as the Venetians refer to the mainland).

On the Lido di Venezia, the car-friendly island strip of beaches, resort hotels, and villa neighborhoods that separates the Venetian Lagoon from the Adriatic Sea. (You can get to the Lido on a fairly expensive car ferry, and your hotel on the Lido will give you advice on parking).

At the Marittima cruise basin, which has open-air lots behind the terminal buildings where you can leave a car during your cruise.
In this article, we'll focus on the most popular options: expensive parking next to the historic center, parking near the cruise terminals, and cheaper parking on the Venetian mainland.
Historic center
The three areas where you can park near the centro storico are:
Tronchetto, where a huge garage and surface parking lots have thousands of spaces for cars, campers, and buses. You'll see an exit for Tronchetto as you approach Venice on the causeway from the mainland. The island is easy to navigate, and it's your best bet if you want to park near the center and don't mind paying a daily fee of €21 or more. From Tronchetto, you can take the inexpensive People Mover to the Piazzale Roma or catch a vaporetto to other locations within the city center. See our Tronchetto Parking Garage article for more information.

Marittima, the larger of Venice's two main cruise basins. Rates are a few euros higher per week than at Tronchetto for long-term parking, but the convenience is likely to be worth the modest extra cost if you're taking a roundtrip cruise from Venice.

Piazzale Roma, a large square that's jammed with city and suburban buses, tour coaches, taxis, and cars. It does have several expensive garages, such as the Garage San Marco (where you'll pay €30 for 24 hours of parking). Unless you're a glutton for punishment, we'd recommend avoiding the Piazzale Roma with its confusing layout, busy traffic, and ongoing reconstruction work.
Mainland
On the Venetian mainland, your best bets are:
Parking at a hotel in Mestre, where you can take a train or city bus into Venice. We personally recommend the Best Western Hotel Bologna, an attractively modernized 100-year-old hotel directly across from the Mestre railroad station. Buy your train tickets from the hotel's front desk, walk across the street, and grab one of the frequent trains to Venice Santa Lucia railroad station (journey time: 10 to 12 minutes).

Parcheggi San Giuliano

, in the Parco San Giuliano at the foot of the causeway that leads to Venice. You can park your car at the "Porta Gialla" or "Yellow Gate" lot for about €5 per day and catch a bus (or, if you're lucky, a boat) to Venice. See our San Giuliano Parking article for details, photos, and maps.
Other, less convenient locations include:
Public parking near the Mestre railroad station. Mestre has a number of lots and garages, but finding them can be a nuisance, and you may waste time that could have been spent sightseeing.

Parking in more distant mainland areas, such as Fusina and Punta Sabbioni. These alternatives are worth considering at exceptionally busy times of the year when you may worry about finding a parking space closer to the city.
For annotated links to parking Web sites for Venice and its suburbs, go to page 2 of this article.
Next page: Web links for garages and parking lots
---
---
---