Venice is a city of pedestrians and boats. When you come to Venice's historic center, you'll need to park your car until you're ready to leave.
Your Venice parking options fall under four headings:
At the edge of the historic center, in the parking facilities on Tronchetto (an artificial island that was designed for parking) or at the Piazzale Roma (the last stop for cars, taxis, and buses that arrive in Venice).

On the mainland, beyond the causeway that connects Venice with Mestre, Marghera, Marco Polo Airport, and other locations on "terrafirma" (as the Venetians refer to the mainland).

On the Lido di Venezia, the car-friendly island strip of beaches, resort hotels, and villa neighborhoods that separates the Venetian Lagoon from the Adriatic Sea. (You can get to the Lido on a fairly expensive car ferry, and your hotel on the Lido will give you advice on parking).

At the Marittima cruise basin, which has open-air lots behind the terminal buildings where you can leave a car during your cruise.
In this article, we'll focus on the most popular options: expensive parking next to the historic center, parking near the cruise terminals, and cheaper parking on the Venetian mainland.
Historic center
The three areas where you can park near the centro storico are:
Tronchetto, where a huge garage and surface parking lots have thousands of spaces for cars, campers, and buses.

You'll see an exit for Tronchetto as you approach Venice on the causeway from the mainland. The island is easy to navigate, and it's your best bet if you want to park near the center and don't mind paying a daily fee of €22 or more.

From Tronchetto, you can take the inexpensive People Mover to the Piazzale Roma or catch a vaporetto to other locations within the city center. See our Tronchetto Parking Garage article for more information.

Marittima, the larger of Venice's two main cruise basins. Rates are a few euros higher per week than at Tronchetto for long-term parking, but the convenience is likely to be worth the modest extra cost if you're taking a roundtrip cruise from Venice.

Piazzale Roma, a large square that's jammed with city and suburban buses, tour coaches, taxis, and cars.  It does have several expensive garages, such as the Garage San Marco (where you'll pay a premium for being within walking distance of the city center).
Warning: The garages at Tronchetto and the Piazzale Roma often fill up early during weekends, holidays, and other peak travel periods. Book ahead if you want to stay in those garages.
Mainland
On the Venetian mainland, your best bets are:
Parking at a hotel in Mestre or Marghera (see listings), where you can take a train, city bus, or T1 tram into Venice. We personally like the Best Western Plus Hotel Bologna, an attractively modernized 110-year-old hotel directly across from the Mestre railroad station.

Parcheggi San Giuliano

, in the Parco San Giuliano at the foot of the causeway that leads to Venice. Rates here are fairly cheap, and you can easily catch a boat, bus, or tram to the historic center. See our San Giuliano Parking article for details, photos, and maps.
---
Need a car-friendly hotel? See:
---
Other, less convenient locations include:
Public parking near the Mestre railroad station. Mestre has a number of lots and garages, but finding them can be a nuisance, and you may waste time that could have been spent sightseeing.

Parking in more distant mainland areas, such as Fusina and Punta Sabbioni. These alternatives are worth considering at exceptionally busy times of the year when you may worry about finding a parking space closer to the city.
More parking information

at Venice for Visitors:
Tronchetto Parking Garage
This artificial island next to Venice's historic center has a 3,500-car garage, open-air parking for campers and coaches, public toilets, luggage storage, and other services. (To reach it, follow the Tronchetto signs as you approach Venice on the causeway from the mainland.)
---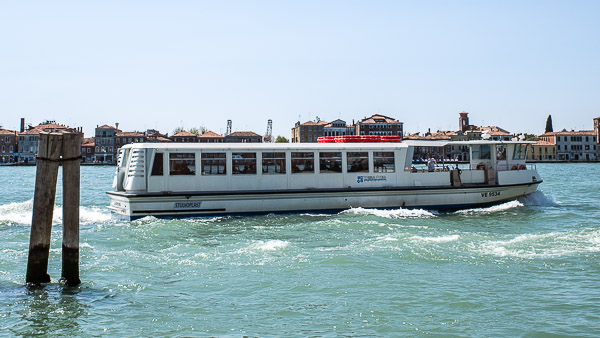 ---
Terminal Fusina Parking
When other parking lots near Venice are full, Terminal Fusina's 1,500 parking spaces on the mainland offer a convenient alternative--and you can commute to the city center by boat year-round. (Terminal Fusina also has a luxury campground with a swimming pool, pizzeria, and other services.)
San Giuliano Parking (Mestre)
Parcheggi San Giuliano's outdoor lots are far cheaper (but much less convenient) than parking in the city center if you're just visiting Venice for the day. They're located within a public park in Mestre, on the Venetian mainland. Also see: Marive Transport boat from San Giuliano Parking to Venice.
---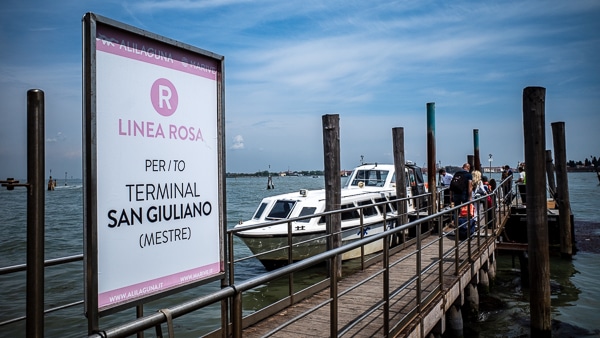 ---
Web links for garages and parking lots:
Venice
ASM Venezia
Azienda Servizi Mobilità S.p.A. operates parking lots, rideshare programs, bicycle paths, and other transportation-related services in Venice and Mestre. In Venice, it runs the Autorimessa Comunale, a municpal parking garage in the Piazzale Roma with room for 2,182 cars and 180 motorcycles. Daily rates vary by season, with a small discount for booking online.
Garage San Marco
If you're set on parking in Venice's Piazzale Roma and can't get a space in the Autorimessa Comunale, try the Garage San Marco--but expect to pay handsomely to park your car or motorcycle in one of its 900 spaces. You can prebook online.
Venezia Terminal Passeggeri (Marittima)
The Venice cruise port's Web site has a car park booking form with a map that that shows terminal locations. (Parking lots are labeled P1, P2, P3, P4, P5, and P6.) Note: This site has a bad habit of changing page URLs, so if the direct link to the booking form doesn't work, go to the home page and drill down.
Mestre
ASM Venezia
The Azienda has three affordable car parks in downtown Mestre, plus the Parcheggi San Giuliano (see top of page). The handiest downtown lot is on Via Ca' Marcello, which is about 550 meters from the train station. You may have trouble finding a spot, though, because 70 of its 100 spaces are reserved for contract parking.
Parcheggio Gregory
This private car park by the train station in downtown Mestre is more expensive than the ASM outdoor lots, but it's still cheaper than Tronchetto or the garages in the Piazzale Roma. You can reserve a parking space online.
Bike Park Mestre
This inexpensive bicycle-parking facility by the Venezia Mestre railroad station has 800 spots. From the station, it's easy to reach Venice's historic center by train.
Tessera (Airport)
Venezia Airport Parking
If you park at Venice's Marco Polo Airport, you can use frequent airport buses or airport boats to reach the centro storico. Rates are reasonable by Venice standards, though you'll want to park long enough to amortize the cost of public transportation to and from the city. (Note: This site also has information on parking at Treviso Airport, which is served by Ryanair and one or two other budget carriers.)
Other mainland locations
CT Servizi - Parking
These outdoor lots are on the Literale di Cavallino-Treporti, a fingerlike extension of the mainland that encloses the northern part of the Venetian Lagoon. ACTV, Venice's transportation authority, operates frequent water buses from Punta Sabbioni and Treporti. (Chances are, you won't be using any of these lots unless you're staying at a beach resort and taking occasional day trips to Venice.)
ACI Venezia Tourist: Parking
This company has space for 300 cars and 100 tourist buses at Punta Sabbioni. You'll need to contact its office by e-mail or phone to request information on parking rates and boat connections.