Venice > Transportation > Airport transportation
Venice Airport Transportation
How to reach your hotel or apartment by bus, boat, land taxi, or water taxi from Venice Marco Polo Airport or Treviso Airport.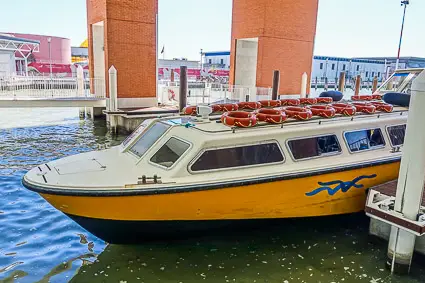 ABOVE: The Alilaguna airport boat offers frequent service between Venice's Marco Polo International Airport (shown here) and the city center.
Venice, Italy has become a major airline gateway to Italy, thanks to budget carriers such as Ryanair and nonstop transatlantic flights by Delta and American. If you're arriving by air, you have several options for getting into the city.
Click the links under each airport's name below for information on Venice airport ground transportation.
Please note:
Most major carriers, and some budget airlines, use Marco Polo International Airport, which is located in Tessera, just 6 km (4 miles) from the historic center.

Ryanair and a few other budget carriers use the much smaller Treviso Airport, which is 30 km or 19 miles from Venice.

If you have an early flight, see our Venice Airport Hotels article for listings of hotels that are convenient to airport ground transportation.

For information on vaporetti, traghetti, and other local transport, see our index of Venice transportation articles.

If you prefer taxis to public transportation, you can easily grab a land taxi (Ä30-40) or a water taxi (€110 and up) at Marco Polo Airport. It isn't practical to take a taxi from Treviso Airport because of the distance and cost.
Marco Polo International Airport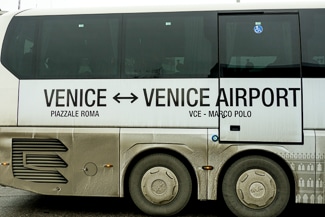 Venice Airport Buses
Here's how to take ATVO coach or ACTV city bus from Venice's Marco Polo International Airport to the Piazzale Roma.
Alilaguna Airport Boat
Henry James said Venice was best approached by sea. You can follow his advice for the price of a local boat ticket. Also see our Water Taxis article.
Venice Marco Polo Airport
VCE has a new terminal and flights to cities on four continents. Here's what you need to know before arriving at (or departing from) the airport.
Treviso Airport
Treviso-Venice Airport Buses
If you're flying to Venice on Ryanair, Wizzair, or several other low-cost carriers, you'll be arriving at Treviso Airport. Special buses serve passengers on arriving or departing flights.
Also see:
Venice Hotel Directions: Hotels near Alilaguna Airport Boat Stops
Most of our featured hotels are no more than one small bridge away from an Alilaguna boat stop--and some are right next to the pier.