Venice> Books > Venice: The Four Seasons
Venice: The Four Seasons
Book Review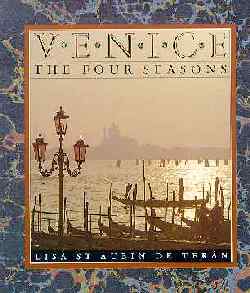 Venice: The Four Seasons
Lisa St. Aubin de Terán
Photographs by Mick Lindberg
Pavilion Books Limited (U.K.)
Trafalgar Square (U.S.)
Paperback, 108 pages
(8-7/8" x 10", 220 x 255 mm)
ISBN 1-85793-726-0
Many travelers to Venice entertain fantasies of living there someday. A few--mostly students and rich Italians--actually manage to fulfill those dreams, if only for a semester or on long weekends away from Milan or Rome.
In 1988, British novelist Lisa St. Aubin de Terán settled in Venice with her Scottish painter husband, Robbie Duff-Scott, her fourteen-year-old daughter, and her five-year-old son. The family bought an apartment on the Rio della Guerra, between Santa Maria Formosa and San Marco, and leapt into "the bizarre bureaucratic hurdle race that buying property in Venice entails." Venice: The Four Seasons gives snippets of the author's life over the next several years while weaving in commentary on Venetian history, culture, geography, and daily events.
The book is divided into four main sections: "Spring Carnevale," "Summer Invaded," "The Autumn Mists," and "Winter Haunts." Each section is illustrated by dozens of superb photographs by Mick Lindberg, which range from intimate views of the author's flat to colorful examples of Venice street life.
Here's an excerpt from the book:
"It must be terrible to be short in Venice, or to be a child, sometimes smothering and drowning under a sea of thighs and baggage. It must be hard to be old and unable to hurry as the crowd jostles itself down alley ways, shoving people against the bricks and doorways and into stalls. It must be hard to be frail, vulnerable to the knocks and bumps continually sustained. In summer it often looks as if the gates of the Arsenale have opened and released 16,000 people from a shift. At first I found my nerves jangled by the sheer numbers and the claustrophobic nearness of so many people. Their excitement clashed with the natural drowsy feeling of the city squeezed by heat. I noticed that my daughter was less bothered by the crowds than I, and I asked her how she managed to survive. 'I just ignore them,' she said.
"Then I asked her what her Venetian friends made of such multitudes and how they coped. She shrugged and said, 'They just ignore them too.' I can see that as a long-term solution this attitude is hopeless, but as a way to enjoying what, but for the intrusion of the eager and the inane, is a lovely dawdling couple of months, it is a start. So sometimes I willed myself to be invisible, and sometimes I willed the crowd to be so on my way to the Lido and the islands. Modern Venetians are wonderful fantasists, and they are forced to fantasize from early on; living as we do in an age of television, the screen and life as it must be lived in Venice do not square."
Summary:
Venice: The Four Seasons is a highly readable, beautifully illustrated book that gives a uniquely personal view of modern life in a thousand-year-old city.
Note: This book is now out of print, so look for it at your used-book dealer or public library.