Walking directions to Ca' Doge (with map)
Click button for lowest available rates and guest reviews: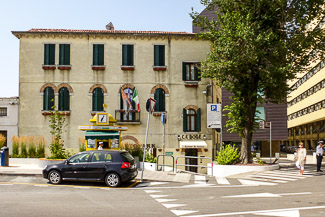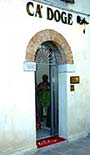 Venice's Ca' Doge is a B&B or inn at the southwestern corner of the Piazzale Roma, across from the People Mover station (which offers cheap, quick transportation to the Marittima cruise port and the Tronchetto parking island). Ca' Doge is accessible by car, and--almost unheard of in Venice--it has its own small parking lot.
The location isn't beautiful or atmospheric (we'd rather be away from cars), but it's handy if you're traveling with a vehicle or you want quick access to the Marittima cruise terminals and the city's official baggage storage office.
How to reach Ca' Doge from Piazzale Roma: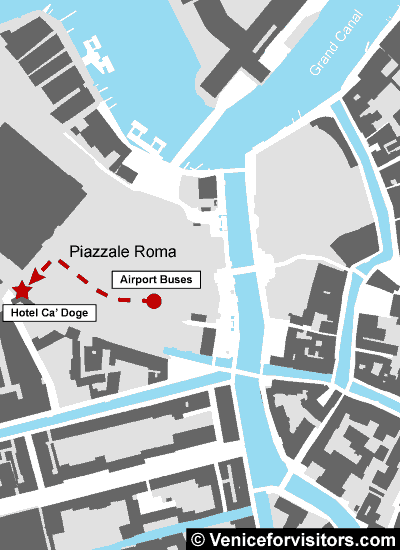 Go to the southwest corner of the Piazzale Roma (the lower left corner of the square on the map).

Ca' Doge is right next to the square, in a stucco building with a parking entrance in the middle and the name "Ca' Doge" above the door.
For even more details, watch our Ca' Doge Video Walking Directions on YouTube:
From the Marittima cruise terminal:
Take a free shuttle bus (if available), a taxi, or the People Mover elevated tramway (just outside the port entrance) to the Piazzale Roma.

Follow the directions above.
From the Santa Lucia railroad station: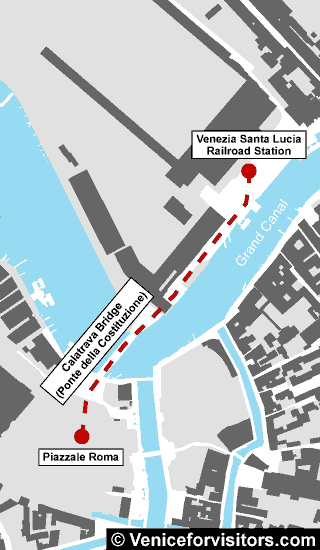 As you leave the station, turn right and walk past the large building to the Calatrava Bridge, a.k.a. the Ponte della Costituzione.

Cross the bridge to the Piazzale Roma.

Walk around the Piazzale Roma to the southwest corner, where you'll find Ca' Doge.
Click button for lowest available rates and guest reviews:
---
---
---