Riviera XX Settembre
From: Introducing Mestre-Marghera

As you approach downtown Mestre, you'll reach the Riviera XX Settembre, which is a good example of how mixed-use development can provide opportunities for people to live, work, and enjoy daily life within the city center.
---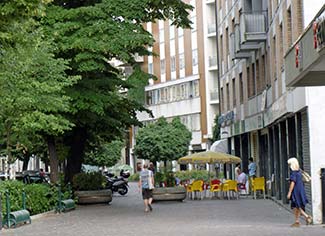 In this photo, you can see trees, bicycle racks, apartment houses, a sidewalk café, shops, and pedestrians--all on a car-free street in the heart of a city with a population of nearly 186,000.
---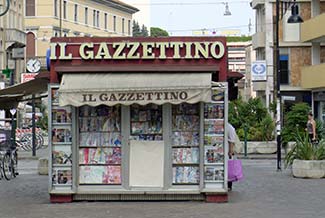 An edicola stands at the junction of Riviera XX Settembre and Mestre's commercial center. Here, you can buy newspapers, magazines, transit tickets, and other daily items.
Next page: Shopping in Mestre
---
---
---