Venice > Transportation > Land bus fares
Venice Land Bus & Tram Fares: Mestre, Marghera, Lido di Venezia, & Chioggia
ACTV land buses and trams are a cheap and convenient way to travel in Venice's mainland districts and on the beach-resort island of Lido di Venezia. They also connect Mestre and Marghera with Venice's historic center.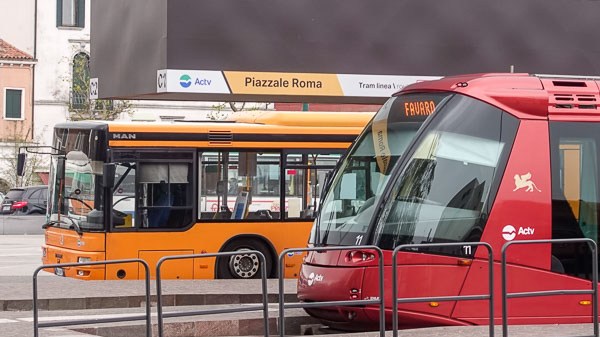 ABOVE: An ACTV public bus and streetcar await passengers in Venice's Piazzale Roma.
---
Venice is famous for its vaporetto water buses, but it also has plenty of wheeled public transportation. Land bus routes crisscross Mestre and Marghera (the two mainland districts that make up most of the city's population), while other wheeled buses and trams connect the mainland to Venice's historic center.
Land buses and trams to Venice are popular with visitors who stay on the car-friendly mainland, where parking is easier and hotel rates are lower than in the centro storico.
Other visitors stay on the Lido di Venezia (Venice's island beach resort) or in Chioggia, an historic small city and seaside resort at the southern end of the Venetian Lagoon.
In the table below, you'll find fares for land buses, streetcars, and the People Mover automated tram. These are operated by ACTV, Venice's public transportation network.
Note: For transit fares within Venice's car-free historic center, see our article on Venice vaporetto fares and tickets.
---
ACTV Land Buses (Lido and Mainland), Trams, and People Mover

Standard bus, tram, or People Mover ticket


Biglietto di corsa semplice
Valid for 75 minutes of urban land travel in one direction by any number of bus lines. Bus tickets and carnets are also valid on the People Mover and trams.

Children under 6 travel free; children 6 and older pay the full adult fare.
€1,50
(

€3 if purchased on board)

Standard 10-ticket bus/tram/People Mover carnet


Carnet
€14,--

No. 5 "Aerobus" (Marco Polo Airport - Venice Piazzale Roma)

€10,-- one-way
€18,-- return

Aerobus + Nave


Valid for the ACTV No. 5 "Aerobus" between Marco Polo Airport and the Piazzale Roma, with a connecting ride on an ACTV water bus.
€18,--

Local Chioggia bus ticket


Biglietto di corsa semplice
Valid in and around Chioggia, at the southern end of the Venetian Lagoon.
€1,30
10-ticket bus carnet for Chioggia
Carnet
€9,--

Mestre Daily Pass


This 24-hour "AVM/ACTV Venice - Trenitalia Combo Ticket" covers travel on the mainland road network, the People Mover, trams within the Comune di Venezia, and Trenitalia Regional or Fast Regional trains (including commuter trains between Mestre and Venice's historic center). It  does not include travel to or from the airport.



Note:

The Mestre Daily Pass is an electronic pass for use on smartphones, and you must buy it via the AVM Venezia phone app or partner apps.

For other one- to seven-day passes that cover both land and water buses in Venice, see "Which Venice transportation pass do I need?"

€5,--
---
Things to know:
---

---
---