Musée National du Moyen Age
Musée de Cluny - Cluny Museum
Page 2
Continued from page 1
By Durant Imboden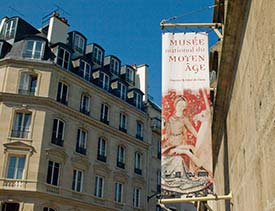 Visitor Information
Location: The Musée National du Moyen Age is in the 5th arrondissement, on the Left Bank of the Seine. (See Google's satellite-photo map.) It's just south of the Boulevard Saint-Germain, near the Cluny-La Sorbonne Métro stop. (Other transit stations within walking distance include the St-Michel, Odéon, and Maubert Métro stops and the St-Michel RER station.)
Directions: If you're exiting the Métro at Cluny-La Sorbonne, walk east to the Rue de Cluny, turn right, walk south about a block to the Place Paul-Painlevé, and turn right again.

The museum entrance is inside the courtyard of the former abbey. Look for the banner on the building (shown at top of page), and then follow the arrow sign in the courtyard to the ticket office.
Museum hours and admission: The Musée National du Moyen Age is open daily except Tuesdays from 9:15 a.m. to 5:45 p.m. (The shop is open until 6 p.m., with no ticket required.) For admission prices, descriptions of the collections, news about special exhibitions, and other information, visit www.musee-moyenage.fr.
Garden hours: The museum gardens are a public park, and you can visit them without buying a museum ticket. The gardens are open from 8 or 9 a.m. to 5:30 p.m. (winter) or 9:30 p.m. (summer), with the terrace within the gardens being open from 9:15 a.m. to 5:45 p.m. Zoom in on Google's satellite-photo map for an aerial view of the gardens.
Next page: More photos
---
---
"Best of the Web"
- Forbes and The Washington Post
---
Suggestions from our booking partner:

---

Arriving and getting around:
---

Airport transfers and sightseeing:

Paris airport shuttles

All Paris tours and activities
---

Cruise review:
---

Need a car in Europe?
If you live outside the EU, a tax-free tourist car lease can be cheaper than renting for visits of 21+ days. Minimum driver age is 18, there' s no upper age limit, and rates include insurance.

Want to save even more? Pick up and return your car in France.

Renault Eurodrive car leases
---