---
Right Bank: Montmartre
From: Where to Stay in Paris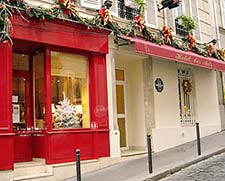 ABOVE: The three-star Hôtel des Arts is on the southern slope of Montmartre, about a block west of the Abbesses Métro stop. INSET BELOW: Two budget hotels, the Roma Sacré-Coeur and the Timhotel Montmartre.
---
---
Hotels in Montmartre (18th arrondissement)

Montmartre is "village Paris" at its best, and we find it irresistible. It's a few kilometers from the center of town (and at least 45 minutes from the Seine if you're walking downhill), but several Métro lines--especially Ligne 12--offer good connections to major sightseeing areas. (Mind you, if you're like us, you may find it hard to leave the neighborhood.)
Montmartre is also convenient to the Gare du Nord, which is served by Eurostar, Thalys, and the RER "B" line from Charles de Gaulle and Orly airports. If you're a shopper, you can easily reach Printemps, Galeries Lafayette, and other major stores in the 9th arrondissement on foot.
Montmartre consists of two main parts:
The southern side of the Butte or hill, below Sacré-Coeur, which is the more "villagey" part with narrow streets, tiny shops and restaurants, and (how can we not mention them?) the grocery store and café from the film Amelie.

The northern slope of the hill, which has less of a village atmosphere but is a pleasant, prosperous residential neighborhood with a far lower ratio of tourists to residents.
You'll also find a neighborhood on top of the Butte, around Sacré-Coeur and the Place de Tertre, but it's small and tends to be overrun by mass-market tourist crowds.
For more information on accommodations in the neighborhood, see our Hotels in Montmartre article (which also discusses holiday apartments and has links to firsthand reports on Montmartre apartments that we've rented).
---

Guaranteed lowest rates at 3,000+ properties in Paris.
---
Tips:
From the Gare du Nord, it's about a 20- or 25-minute walk to most Montmartre hotels.

Montmartre is in a single arrondissement: the 18th. Don't be deceived by properties that claim to be in Montmartre when they're merely near the district.

Booking.com represents an apartment hotel, the Adagio Paris Montmartre, that's worth considering if you want your own kitchen. Rates are reasonable, the location couldn't be better (it's at the end of a quiet, atmospheric lane on the southern slope of the Butte), and there's no minimum stay requirement. If you sleep here, you can pick up croissants from one of the many bakeries nearby and enjoy breakfast in your kitchenette-equipped studio or apartment.

Two budget hotels are especially noteworthy, if only because of their locations: The Timhotel Montmartre is on a lovely tree-shaded square near the Abbesses Métro stop, and the Hôtel Sacré-Coeur is directly above a café on Montmartre's northern slope where you can enjoy breakfast on a landscaped terrace next to the street and the public stairs that lead to the Lamarck-Coulaincourt Métro stop. (It's the kind of café where you're likely to see neighborhood residents having breakfast with their dogs.)

The main drag along the very bottom edge of Montmartre (the boulevards of Clichy and Rochechouart) is heavy on discount stores and sex shops. This doesn't faze the French, who contentedly push their baby strollers to supermarkets that are within ogling distance of strip joints, but it might be a concern if you'd rather not have the Musée de l'Érotisme or a peep show down the block.
Next page: CDG, Orly, Beauvais Airports
---
---