Left Bank:
Latin Quarter, St-Germain
From: Where to Stay in Paris
By Durant Imboden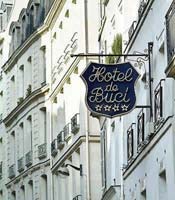 ABOVE: The four-star Hotel de Buci is an attractive, conveniently located boutique hotel between the Boulevard St-Germain and the Seine.
---
---
Hotels in the 5th and 6th arrondissements
The Left Bank, and more specifically the Quartier Latin and St-Germain-des-Pres, have a powerful allure for visitors from abroad. First-time visitors in particular are likely to envision latter-day knockoffs of Ernest Hemingway and Jean-Paul Sartre sipping wine in cozy cafés while Picasso wannabes are painting nude women in garrets amid the Left Bank's rooftops.
In reality, today's Latin Quarter and St-Germain are prosperous neighborhoods of busy avenues, expensive shops, and more than a few chain restaurants. Pockets of quaintness remain, but the prevailing atmosphere is that of a major international city (albeit one with what a New Yorker might call an Upper West Side sensibility with a bit of Greenwich Village thrown in for the tourists).
The 5th and 6th arrondissements do have many appealing hotels, and they're home to a number of interesting churches and museums (including one of our favorites, the Musée National du Moyen Age or Cluny Museum). If you stay near the Seine, you'll be close to Nôtre Dame Cathedral, La Conciergerie, St-Chapelle, the Louvre, and the Marais just across the river on the Right Bank. And if you're coming from either Charles de Gaulle Airport or Orly Airport, you can take the RER "B" train to the St-Michel RER and Métro station, which is conveniently located near the Seine on the border of the 5th and 6th.
We recommend staying within a few blocks of the Seine, which will make it easier to reach major sights (including those on the islands or the Right Bank) on foot.
Tip: If you're looking for picturesque, pedestrian-friendly streets with small hotels, cafés, and restaurants, try the area just to the west of the St-Michel RER/Métro stop between the Boulevard St-Michel and the Seine. (The Hotel de Buci, pictured at the top of this page, is an example of what you can expect to find in the area.)
Next page: Left Bank: Eiffel Tower, Invalides
---
---
"Best of the Web"
- Forbes and The Washington Post
---
Suggestions from our booking partner:

---

Arriving and getting around:
---

Airport transfers and sightseeing:

Paris airport shuttles

All Paris tours and activities
---

Cruise review:
---

Need a car in Europe?
If you live outside the EU, a tax-free tourist car lease can be cheaper than renting for visits of 21+ days. Minimum driver age is 18, there' s no upper age limit, and rates include insurance.

Want to save even more? Pick up and return your car in France.

Renault Eurodrive car leases
---