Civitavecchia Cruise and Ferry Port
Page 2
Continued from page 1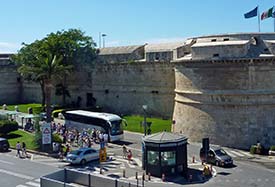 ABOVE: A cruise ship's shuttle bus collects passengers near the Port of Civitavecchia's main gate.
Shuttle buses in Rome's cruise port
At the Port of Civitavecchia, cruise ships normally moor along the breakwater between the harbor and the Tyrrhenian Sea. (Ferries use dedicated piers.)
Free shuttle buses run between the cruise ships and the south or downtown entrance to the port, which is next to Civitavecchia's business district and within easy walking distance of the railroad station.
Often, there are two types of shuttle buses at the port:
Port of Civitavecchia shuttle buses, which look like white city buses, don't have luggage compartments underneath, and operate throughout the port on a regular schedule. (You'll see a printed timetable on the bus shelter near the port gate.)

Shuttle buses for individual cruise ships, which are coaches with outside luggage compartments. (Look for a sign behind the windshield with the name of your ship.)
How to use the free shuttle buses:
If you're arriving on a cruise ship and haven't booked a transfer or shore excursion, take the shuttle bus to the south or downtown port exit, where you can walk to the train station. Don't count on finding a taxi--there aren't many, and drivers may not be willing to accept passengers for short trips.

If you're departing on a cruise ship or ferry, wait at the bus stop inside the downtown port entrance until a bus comes along. At peak times, there may be a wait for a shuttle--especially if you're cruising on a ship that carries several thousand passengers--so try to reach the port ahead of the crowd.

Shuttle drivers don't expect tips, so there's no need to reach for your wallet.