Hotel de "La Ville"
Page 2
Continued from page 1
By Durant Imboden
More photos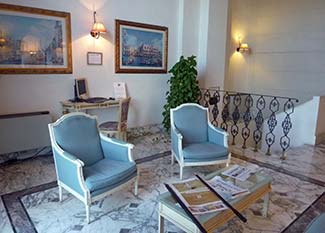 The Hotel de "La Ville" has a sitting room off the lobby with Italian-language newspapers on the coffee table and huge windows facing the seafront promenade.
---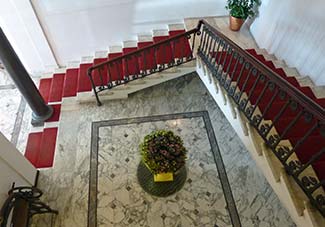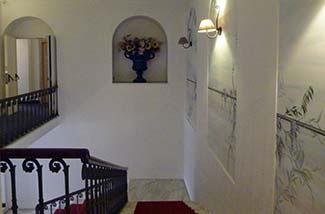 A carpeted marble staircase with wrought-iron railings leads upstairs to the 37 guest rooms and 8 suites. (The hotel also has an elevator.)
---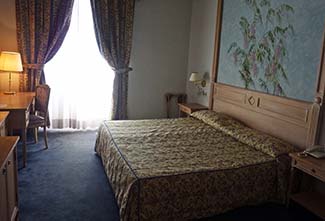 My renovated double room had a floor-to-ceiling window facing Civitavecchia's new waterfront promenade and the Tyrrhenian Sea. (It would have been nice to have more electrical outlets, but unplugging a lamp solved the problem of how to recharge my computer and camera batteries.)

---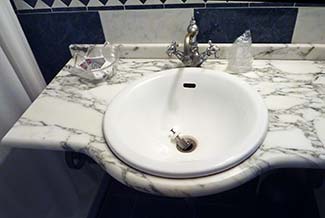 My private bathroom had marble tile walls, a marble shelf around the sink, a marble floor, and antique brass fittings. (The shower stall was modern, with a plastic curtain.)
---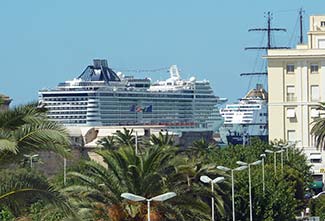 From the room's window, I could look toward the port and see two cruise ships. (The palm trees in the foreground line Civitavecchia's waterfront promenade.)
Note: This photo was taken with a telephoto lens, which makes distant objects appear closer than they are.
---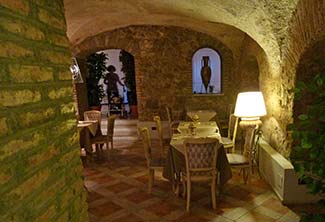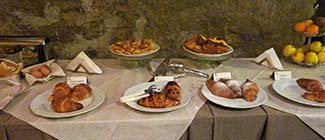 The Hotel de "La Ville" serves a buffet breakfast in "La Taverna del Filippo," within the walls of ancient Roman baths. (The pastry selection in the lower photo represents a small portion of the breakfast spread.)
I reserved my room through the Hotel de "La Ville" site operated by Venere, our hotel booking partner, and breakfast was included in the rate.
Back to: Hotel de "La Ville," Civitavecchia
---
---
---
---
---
"Best of the Web"
- Forbes and The Washington Post
---
---



Looking for a hotel in Rome?


Venere, Italy's leading booking service, offers discount rates at more than 1,500 hotels, B&Bs, and other places to stay in Rome and towns nearby.


Click for hotel listings, rates, and reviews.
---
Related site:

Venice for Visitors
"The premier visitors' site for Venice, Italy."
- PC Magazine
---
---