ABOVE: Between April and October, look for scheduled boats between the San Giuliano parking lot (left icon) and the ACTV vaporetto stop at Tre Archi in Venice's historic center.
Boat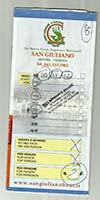 Boat services between San Giuliano and Venice come and go. In recent years, scheduled boats have been operated sporadically by ACTV, Alilaguna, and Lagunare S. Giuliano.
Readers Paul and Betty Deseyne of Belgium recently told us of traveling with Boat San Giuliano to Tre Archi, at the northern end of Venice's Cannaregio canal. (The boat ran hourly and took just under 20 minutes for the journey.) Here's their report from April, 2014:
"Arrived at 'Tre Archi,' you can take the vaporetto 5.1 or 5.2.
"The ACTV pass we bought online (at home, before we parted), couldn't be validated there, so we had to walk 1/2 hour to Ferrovia to validate our pass.
"An easier solution was to buy a single vaporetto-ticket at the tobacco-shop further down the road in the Fondamenta di Cannaregio (approx. 350 meters). Unfortunately we thought about this solution only 2 days later (when is was too late).
"To return to the main land there was no problem at all. The boat arrived at the indicated time. It was a Venetian taxi-boat, very comfortable for only 2 persons ... Very different from the boat we arrived with (vaporetto-size).
"At Tre Archi there are no signs that indicate the boat-line so you must be on time and listen to the boat-driver who calls "San Giuliano".
"We send you in attachment a scan of our ticket (2 persons - go and back = 30 euros).

"If you are a family of 5 or if you stay only for 2 nights, Tronchetto is probably cheaper. But for us it was excellent and we saved enough to buy a dinner for 2!"
Buses

Several ACTV bus lines connect Venice to the western end of the Parco San Giuliano, near the Red and Blue parking lots. Unfortunately, these buses aren't convenient for two reasons:
Except during nighttime hours, you can't buy a ticket on the bus. You'll need to purchase tickets at an ACTV/Hellovenezia office or another authorized agent, such as a tabac or a newsstand, before boarding.

Some buses stop at the Parco San Giuliano only on the way to Mestre from Venice, not on the way to Venice from Mestre.
Still, if you're in no hurry, you can take an ACTV public bus to or from Venice. Routes that serve San Giuliano include lines 5, 12, 12B, 12L, 19, and 14. See the ACTV's Urban Lines page and click the icons next to the line numbers for timetables and maps.