Costa Magica Cruise Photos
From: Costa Magica Cruise Review
Valencia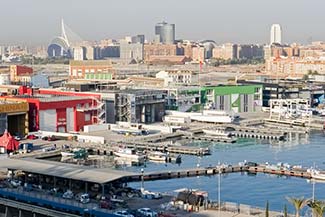 On Wednesday, four days after leaving Civitavecchia, we arrived in Valencia, Spain (or "València," to use the local Catalan spelling). The cruise port was about 4 km or 2.5 miles from the city center, next to a basin with large hangars that were built for the 32nd and 33rd America's Cup sailboat races.
Valencia is becoming an increasingly popular port of call for cruise ships, thanks to a modern cruise terminal, an attractive downtown, and the modern City of Arts and Sciences museum and music complex.
---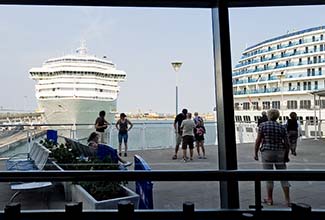 From the ship, a covered walkway took us to the cruise terminal, which offered good views of two Costa vessels: Costa Magica (left) and Costa Mediterranea.
---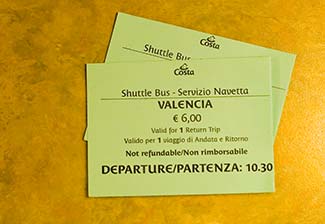 After breakfast, we wanted to reach the city as quickly and easily as possible, so we bought roundtrip shuttle-bus tickets from the Costa Magica reception desk for € 7 each. The tickets were sold for specific departure times from the port, but we could return from the city to the ship whenever we wished.
---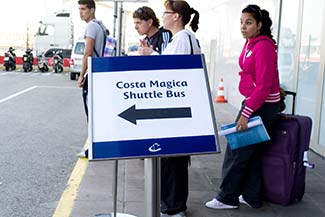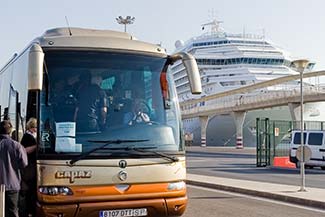 Outside the cruise terminal, a sign pointed to the shuttle-bus stop, where buses were waiting to take passengers into the city.
---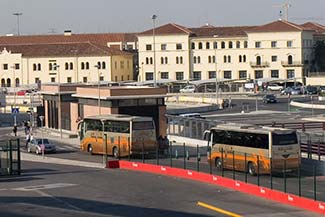 The drive into the city took about 20 minutes in light traffic. (At rush hour, travel time can be longer.)
---
---
---
---