Costa Magica Cruise Photos
From: Costa Magica Cruise Review
Savona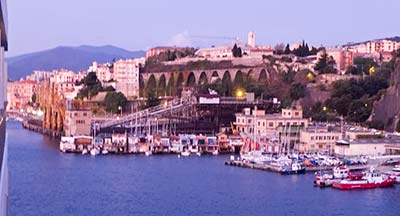 Costa Magica reached Savona, Italy ahead of schedule, entering the harbor well before 8 a.m.
---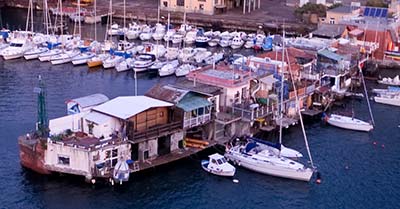 We passed a marina on the outskirts of town that had a pier with houses on top.
---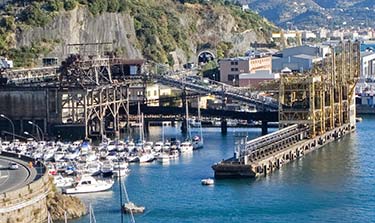 We didn't realize it at the time, but Savona isn't just an attractive provincial capital, a small but well-equipped cruise port, and a place where Christopher Columbus once lived. It's also a former industrial town, and the city--which has a population of about 62,000--remains an important coal port. (Savona is about 40 km or 25 miles northwest of Genoa on the Italian Riviera.)
In this photo, you can see the historic coal terminal, which is connected by an aerial conveyor (called a funivia) to a plateau above the cliffs.
---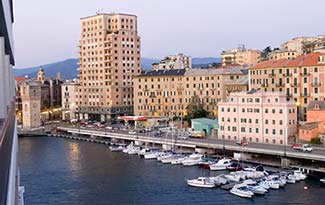 As Costa Magica floated slowly toward the cruise terminal, we got a nice view of the city center.
---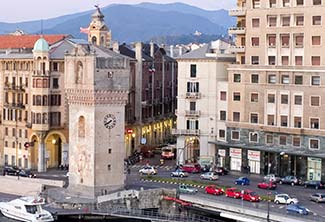 One of Savona's signature buildings, the Torre Leon Pancaldo, dominated the waterfront across from the cruise terminal.
The tower was built in the 1300s and is named after Ferdinand Magellan's navigator, Leon Pancaldo, who was born in Savona. (Magellan, as you'll probably recall, was the most famous sea explorer of the 16th Century).

---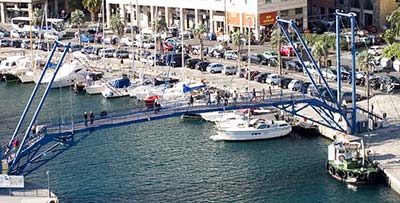 While the ship was being tied up at the cruise pier, we studied our environs. Directly ahead was a footbridge from the port to downtown Savona. (The cruise terminal's location couldn't have been better--it was right next to the city center.)

---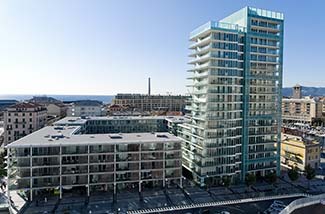 A modern apartment and retail complex was just beyond the cruise terminal in the port quarter, which has been redeveloped in the last few years.
---
A little farther on, the Fortezza del Priamar or Priamar Fortress overlooked the city and the cruise port.
---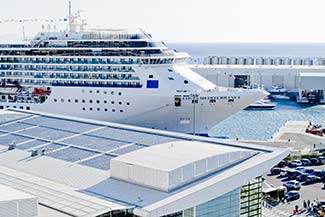 Closer to home, we could see another Costa ship, Costa Mediterranea, across the roof of Savona's Stazione Marittima or cruise terminal.
---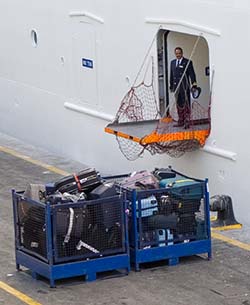 Savona is a turnaround port for Costa Cruises, and many Costa guests--especially from Northern Italy and Northern European countries--board or disembark in Savona instead of starting and ending their cruises in Rome's port of Civitavecchia.
(Like its Italian rival, MSC, Costa lets its multinational passengers book roundtrip cruises from whatever port they find most convenient: e.g., Valencia in Spain, Marseille in France, and Savona, Rome, or Naples on the Tyrrhenian coast of Italy.)
---
---
---
---