Costa Magica Cruise Photos
From: Costa Magica Cruise Review
Valencia (2)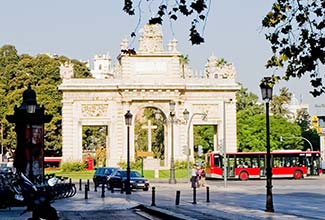 The Costa Magica shuttle bus dropped us off near the Plaça Porta de la Mar, a square on the edge of Valencia's historic center and shopping district.
---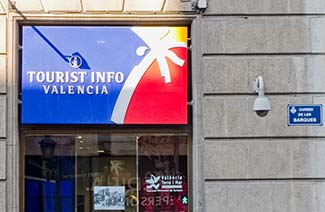 í
Valencia's Tourist Information Office was a few meters west of the square on the Carrer de les Barques. It offered free maps, brochures, and a helpful staff that could answer questions in several languages (including English).
---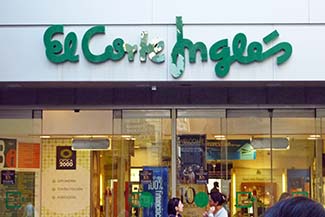 Although the tourist office's free map was useful, we wanted something more detailed, so we stopped at El Corte Inglés (the local branch of Spain's leading department-store chain) and bought a València Turística map.
The map was published by a local firm, Alonso Editor. It was printed at a scale of 1:5500, with plenty of detail and extremely legible street names. The map included numbers for sites and monuments that were keyed to photos and brief descriptions on the back of the map. The price was only three euros.
We strongly recommend buying this map when you visit Valencia, even if you're in town for only a day.
---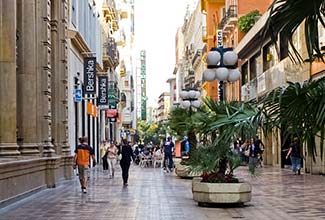 El Corte Inglés is in a small cluster of pedestrian shopping streets just south of Valencia's Ajuntament or city hall, between the Plaça de l'Ajuntament and a major street named the Carrer de Colón.
---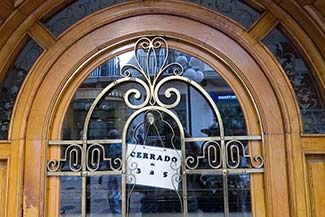 Shops in the neighborhood vary from large chain stores to traditional shops like this one, which was closed for lunch when we passed it later in the day.
---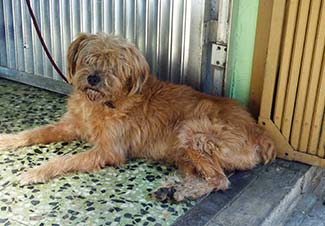 Vicious guard dog or shopper's pet? We'd guess the latter, since the dog--which was taking a break in a shop entrance--merely looked at us curiously as we walked by.
---
---
---
---