Costa Magica Cruise Photos
From: Costa Magica Cruise Review
Marseille
As Costa Magica approached Marseille the next afternoon, we saw a hilltop fortress, a coastal road that wasn't designed for sissies, and a dry, mountainous landscape overlooking a deep blue sea.
---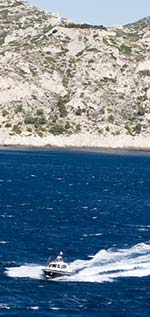 A pilot boat raced toward the ship as we neared the port of Marseille.
---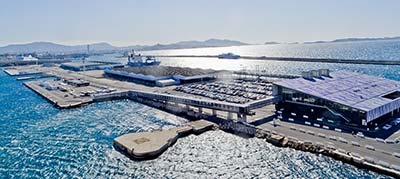 Inside Marseille's harbor, the cruise terminal basked in the early-afternoon sun.
---
Because we were arriving in Marseille at 1 p.m., rather than the usual 7 or 8 a.m., most passengers who wanted to go ashore were ready to leave the ship. Costa had anticipated the demand by bringing in a fleet of shuttle buses.
---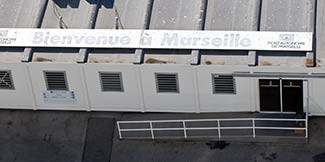 Unfortunately, there was a bottleneck waiting on the pier: The cruise terminal simply wasn't big enough to handle the crush of 1,000 or more passengers coming off a ship at the same time.
---

Signs inside the cruise terminal told where to find shuttle buses, taxis, and public transportation. (We'd already bought 7-euro tickets for the Costa shuttle bus, since we planned to spend our time in Old Port and downtown Marseille.)
---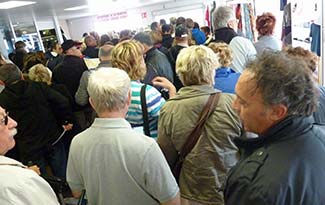 Beneath the signs, Costa Magica passengers remained calm (and surprisingly patient) in the slow-moving line that led through the terminal to the exit doors and shuttle buses.
A representative of the local tourist office handed out free city maps in Italian. The title of the map was "Marsiglia: Pianta del Centro Città."
---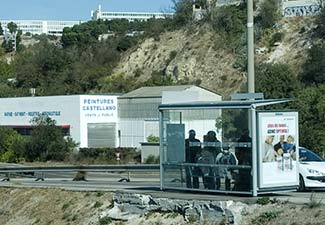 On our way out of the port by shuttle bus, we saw a bus stop of RTM, the Marseille transit network, just beyond the gates about one mile or 1.6 km from the cruise terminal.
For an English-language summary of how to get around Marseille by public or private transportation, see Marseille Tourism's City Transports page or AngloINFO Provence's Marseille Metro, Bus & Tram page.
---
---
---
---