Costa Magica Cruise Review
A roundtrip voyage in the Western Mediterranean from Rome's port of Civitavecchia.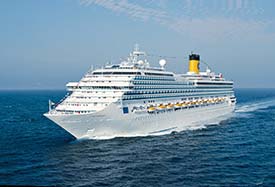 ABOVE: Costa Magica is one of 14 ships in the Costa Crociere fleet.
---
By Durant Imboden

While planning a quick trip to Rome (a city that we feature at Rome for Visitors), we came up with the idea of adding a roundtrip cruise from Rome's port of Civitavecchia. After browsing Expedia's cruise deals from that port, we settled on a Western Mediterranean cruise aboard Costa Magica in October, 2011. The seven-night length was perfect for an extension to our 11-night Rome trip, the departure date and price were right, and we were attracted by the ports of call: Naples, Palma de Mallorca, Valencia, Marseille, and the small city of Savona on the Italian Riviera.
We also were intrigued by what we learned while researching our cruise:
Costa Cruises (in italian, Costa Crociere) is Europe's largest cruise line. It's also one of the world's oldest shipping companies: According to the line's official history, Costa was established in 1854 under the name of the founder--"Giacomo Costa fu Andrea"--and began delivering fabrics, olive oil, and other Italian goods to ports around the world. In the 1940s, Costa changed its name to "Linea C" and built a fleet of luxurious passenger ships, including the first ship with air-conditioned cabins.

By 1959, the Genoa-based line was offering pleasure cruises in American and Caribbean waters. The "fly-sail" concept made its debut in 1968. Today, Costa Crociere (now owned by Carnival Corporation) still wears the "C" on its yellow-and-blue funnels, which sit atop 15 modern cruise ships. All Costa vessels fly the Italian flag, and Costa's ships visit some 250 ports in a typical year.
Like its Italian rival, MSC Cruises, Costa serves a multinational clientele and provides a distinctly European experience. It's considered a "contemporary" or "mass-market" cruise line, with competitive fares that attract cruisers of all ages and backgrounds. For us, a Costa Magica cruise was a chance to experience--and review--a roundtrip cruise from Rome with an Italian line that carries more than 1.3 million passengers in a typical year.
About this review:

In this 10-page report, we'll tell you what it was like to cruise on Costa Magica with more than 2,500 guests from Europe, the United States, Australia, South Africa, and other countries. We'll also show you a day-by-day Costa Magica cruise photo diary to help you decide whether a Costa cruise is something that you might enjoy.
Top photo copyright © Costa Cruises.