River Baroness Cruise Photos
From: Uniworld River Baroness cruise review
Day 1: Embarkation and Departure from Paris (2)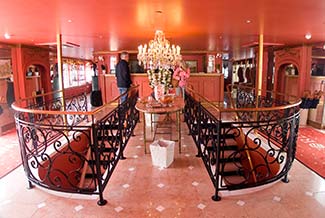 Embarkation was easy: We just walked up to the reception desk, gave our names, and handed over our passports.
---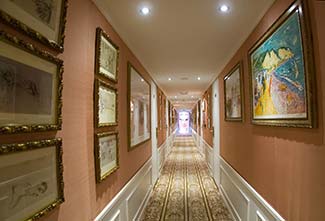 The receptionist gave us a pair of key cards, and we headed down the corridor to our stateroom.
---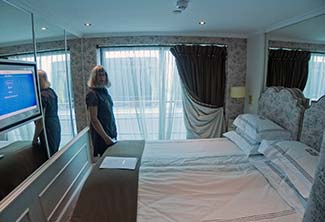 Our stateroom, Cabin 222, was located on the same deck as the reception area and the main lounge. Like the cabins on most river-cruise ships, it was fairly small, but the layout was efficient and the furnishings were of high quality.

---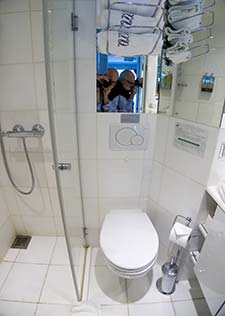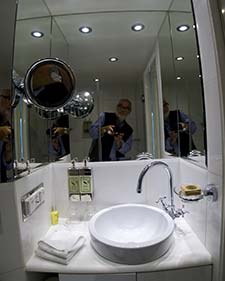 Our bathroom wasn't large, but it had a full-size shower stall with a glass door and a vessel sink with a swiveling faucet that was convenient for hand laundering of our drip-dry clothing.
The bathroom was supplied with Occitane soap and bottled toiletries, plus dispensers for Occitane liquid soap, lotion, shampoo, and shower gel.
---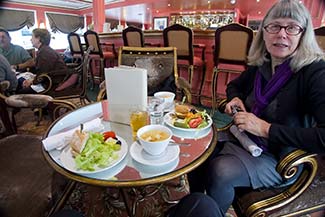 After stowing our luggage and exploring our cabin, we went to the Monet Lounge, where a light buffet lunch was being served.
---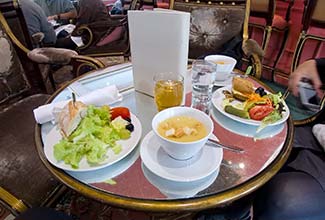 The lunch buffet offered salads, fruit, an excellent hot soup, baguette sandwiches, and a choice of desserts.
---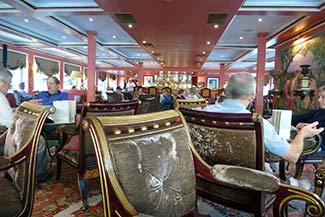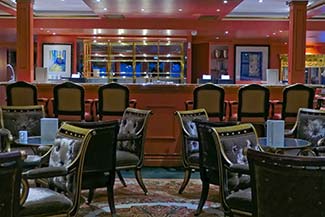 The Monet Lounge itself was a large room with panoramic windows, armchairs, couches, tables, and a bar.
---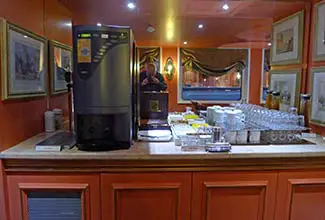 At the entrance, the Monet Lounge had a beverage station with an ice machine, an ice-water dispenser, carafes of sweetened and unsweetened iced tea, and a machine that served coffee, espresso, cappuccino, hot chocolate, and hot water for a selection of teas and tisanes in teabags.
---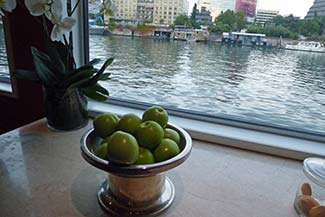 Across from the beverage station, a counter held a bowl of apples and a jar of freshly-made cookies.
---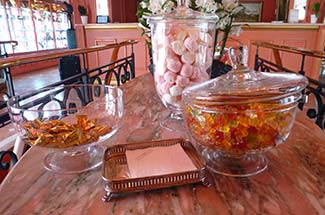 More goodies were in the reception area, where a table had bowls of Gummi Bears, flavored marshmallows, and packaged butterscotch drops.
---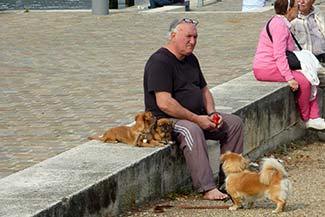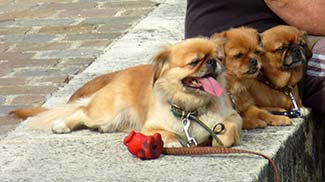 After returning to our cabin to finish unpacking, we went ashore for a walk. ("All aboard" time was 5:30 p.m., so we had a couple of hours to spare.) On the quay next to the ship, a man was taking a break with his four dogs.
---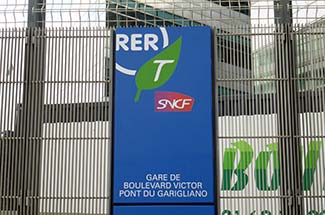 A few minutes to the west, we found the RER station at Boulevard Victor/Pont du Garigliano. (Another station of RER Line C, Javel, is a short distance east of the quay.)
---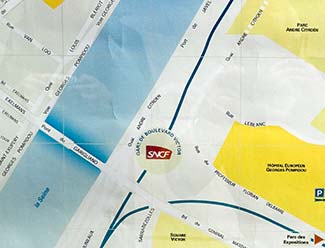 This map shows the location of the Boulevard Victor/Pont du Garigliano RER station, which is close to the Seine and the river-vessel piers at Port de Javel-Bas (along the water near the top of the map).
The RER is a regional rail network that serves the city of Paris and its suburbs. From the RER stations near the pier, you can easily reach the Eiffel Tower, the Latin Quarter, Notre Dame Cathedral, and many other locations with an inexpensive Metro ticket. For more information, see our RER article at Paris for Visitors.
---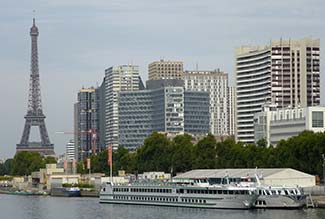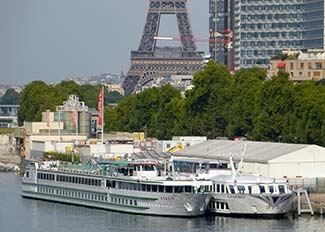 After visiting the RER station, we crossed the Pont du Garigliano and took several photos from the bridge and the Right Bank of the Seine.
These two pictures show CroisiEurope's Renoir and Uniworld's River Baroness with the Eiffel Tower behind. (The Eiffel Tower is an easy walk from the Port de Javel Bas, especially on a Saturday or Sunday when the industrial sites along the river aren't operating.)

---
---
---
---