ABOVE: A view of the Seine from Château Gaillard in Les Andelys, Normandy.
River Baroness has a fixed weekly itinerary throughout the cruising season. Every Sunday, the ship departs Paris for Normandy, returning late on Friday for a two-night stay in Paris.
Here's a day-by-description of what to expect:
Pre-cruise itinerary (for "Cruise/Tour" guests only)
Friday: Arrive at Paris Charles de Gaulle Airport and transfer to the hotel.
Saturday: Choice of a Paris city tour by bus or a walking tour in Central Paris. (Breakfast included; other meals on your own.)
Cruise itinerary (for all guests)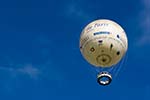 Sunday: Board the ship, have a light buffet lunch in the lounge, and relax on the ship or explore the neighborhood until the "all aboard" time in late afternoon. (Tip: If weather permits, take the Ballon Air de Paris tethered-balloon ride in the adjacent park.) The ship departs before dinner, so you can go up on deck to enjoy views of the Seine and its bridges as River Baroness leaves Paris for Normandy.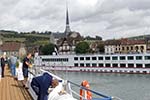 Monday: River Baroness spends the morning in Les Andelys, a pretty little town with a ruined castle (which you can visit on a guided uphill walk), a number of attractive shops, and a pleasant waterfront park. In the afternoon, the ship cruises to the historic city of Rouen, going through a number of locks along the way. Overnight in Rouen.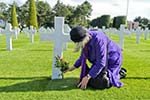 Tuesday: From Rouen, you'll have two options: A visit to the D-Day museum at Arromanches, or a viewing of the Bayeux Tapestry (an 11th Century embroidered cloth that portrays the Norman conquest of England). After lunch, the D-Day and Bayeux tour groups join up for a visit to Omaha Beach and the Normandy American Cemetery at Colleville-sur-Mer. Overnight in Rouen.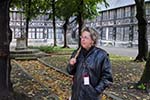 Wednesday: In the morning, local guides will lead small groups on walking tours of downtown Rouen, which is a short walk from the pier. You'll see half-timbered houses, the site where Joan of Arc was burned at the stake, Rouen Cathedral, and other places of interest. After lunch, you'll have the rest of the day on your own for sightseeing, visiting churches and museums, or shopping in Rouen's department stores and boutiques. Around dinnertime, the ship will depart for Caudebec-en-Caux, arriving in late evening.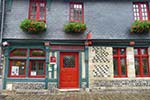 Thursday: From Caudebec-en-Caux, you'll have two tour options: An half-day excursion by bus to the historic harbour town of Honfleur (the subject of many Impressionist paintings), or--at extra cost--an all-day tour that includes a visit to the Cliffs of Etretat, a cider farm (with lunch), and Honfleur.
If you choose the standard half-day tour, we recommend spending several hours walking around Caudebec-en-Caux, which is a pleasant town with beautiful flowers and a spectacular church. Around 6 p.m., River Baroness will sail upstream to Vernon, arriving the next morning at 6 a.m.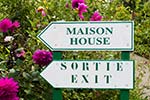 Friday: After breakfast, you'll have a short bus ride to Monet's house and gardens at Giverny. Following lunch, you can stay aboard the ship as it sails toward Paris or take an optional coach tour to Versailles, rejoining the ship upstream. River Baroness will arrive in Paris between 11 p.m. and midnight. Overnight in Paris.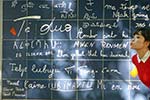 Saturday: In the morning, you'll have a choice of tours (Montmartre or a "Heart of Paris" walking tour). You'll then be on your own, except for lunch and dinner, unless you book an optional "Secrets and Masterpieces of the Louvre" tour or an evening at the Moulin Rouge. Overnight in Paris.
Tip: During the first five minutes of every hour from sunset until 1 or 2 a.m., you can watch the Eiffel Tower sparkle in a strobe-light show. Just head upstairs to the Sun Deck or walk to the nearest bridge.
Sunday: Disembarkation starts at 4 a.m. (with a van for passengers who have early flights) and finishes around 9 a.m. for passengers who aren't in any hurry to leave the ship.