Silver Spirit Cruise Review
Page 2
Continued from page 1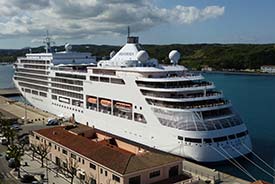 ABOVE: On Silver Spirit, most public rooms are located aft. Passenger accommodations are amidships or forward, away from dance floors and lounges.
Silver Spirit: the ship

When Silver Spirit joined Silversea's fleet late in 2009, some longtime Silversea passengers were convinced that the company had gone over to the dark side by launching a ship with room for 540 passengers. (Mind you, the same hubbub occurred when Silver Whisper and Silver Shadow joined the line's original and smaller ships, Silver Cloud and Silver Wind, earlier in the decade.)

Although it's true that Silver Spirit is bigger than Silversea's previous vessels, "bigger" is a relative term. Compared to a megaship like Royal Caribbean's Oasis of the Seas (5,400 passengers double occupancy, with a maximum capacity of 6,296), Silver Spirit is like a Fiat 500 next to a Greyhound bus. It's also smaller than luxury vessels such as Regent's Seven Seas Voyager (700 passengers) and Crystal Serenity (1,070 passengers).

More to the point, Silver Spirit feels surprisingly intimate, in part because it has one of the cruise industry's highest space-to-passenger ratios at 6,700 cubic feet or 190 cubic meters per guest. The ship doesn't seem crowded, even when--as on our cruise--it's packed to full capacity. (In nine days of cruising, we never had difficulty finding a table for two in the restaurants, seats in the theatre, or quiet places on the outside decks.)
A few facts about Silver Spirit:
The ship is 642.1 feet or 195.8 meters long and has a gross rated tonnage of 36,000, compared to 28,258 GRT for Silver Whisper or Silver Shadow and 16,800 GRT for Silversea's first generation of ships, Silver Cloud and Silver Wind.

In terms of design, Silver Spirit is a direct descendant of the line's earlier ships, with similar lines and the same basic concept of "public rooms aft, passenger accommodations amidships and forward." (This design, which stacks most of the lounges, restaurants, etc. above each other toward the stern, prevents noise from intruding into the cabins and provides a series of terrace-like open decks behind the public rooms.)

Because it's slightly larger than its immediate predecessors, Silver Spirit offers more choices for guests (such as extra restaurants, a larger and better-equipped fitness center, and more entertainment options at night). At the same time, Silver Spirit's overall look, feel, and layout are similar to those of other Silversea ships, and it's easy to forget that you aren't on Silver Whisper or Silver Shadow when you're having breakfast in La Terrazza, enjoying the view from the Observation Lounge, or watching a performance in the Show Lounge.

Tip: The Silver Spirit Ship Tour in our collection of cruise photos takes you on a deck-by-deck walk through Silversea's newest vessel.
Next page: Suites
---
---
---