Maratea, Basilica, Italy
Page 7
Continued from page 6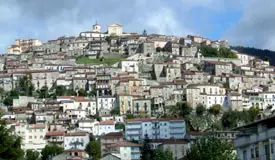 ABOVE: Padula and its Carthusian monastery are about an hour's drive from Maratea.
Activities
Swimming, boating, horseback riding, hiking, bicycling, tennis, water skiing, kayaking, windsurfing, and diving are just a few of the activities for tourists in Maratea and the Gulf of Policastro. Ask your hotel's reception staff or the local tourist office for more information.
Even if you're spending only one night in Maratea, take time to visit the Statua dei Redentore, or Statue of Christ the Redeemer, on Mt. San Biagio. The statue is the second largest of its kind in the world (after Rio de Janeiro's), but the real attraction is the spectacular view of Maratea's old town, the port, and the coast as you look almost straight down from the summit ridge.
Boat excursions to seaside caves and the Isle of Dino are popular during the summer season, which--depending on weather and the number of visitors--can run from mid-April through October.
From Maratea, it's a short drive to Rivello, a dramatically situated hill town of 3,500 inhabitants that is virtually unknown to English-speaking travelers. Lagonegro, near the Autostrada exit for Maratea, is also worth visiting. It's said to be the burial place of the Mona Lisa in Leonardo da Vinci's painting.
The Certosa di San Lorenzo, also known as the Certosa di Padula, is a former Carthusian charterhouse about an hour from Maratea in the city of Padula (see photo above). The 700-year-old monastery has been a national monument since 1882.
Pollino National Park and Cilento e Vallo di Diano National Park are also within commuting distance of Maratea. (Gorp.com lists Pollino National Park as one of "Italy's 20 best adventures.")
Note: During the tourist season, guided excursions to these and other locations may be available. Ask your hotel concierge, the Maratea tourist office, or a local travel agency for details.
Next page: Maratea Web links
---
---
---