Maratea
Basilicata, Italy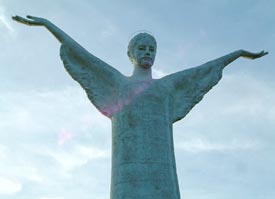 ABOVE: Maratea's statue of the Redentore (Christ the Redeemer) is 22 meters or 72 feet high. It stands on a mountain ridge that offers dizzying views of the historic center, the Port of Maratea, and the Tyrrhenian Sea.
By Durant Imboden
For English-speaking visitors, Maratea and the region of Basilicata are Italy's last travel frontier. Few foreigners have even heard of Maratea, which discriminating Italians have long prized as a cheaper and less crowded alternative to the Amalfi Coast.
Maratea is two to three hours south of Naples on the Gulf of Policastro, a 30-km stretch of rugged coastline that is hemmed in by Campania on the north and Calabria to the south. The municipality has about 5,000 inhabitants in 30 scattered communes, the most of important of which--the historic center of Maratea--lies on the slopes of Monte San Biagio, 311 meters or 1,020 feet above sea level and a 10-minute bus ride from the scenic Port of Maratea.
A number of years ago, a company called Gruppo Fintur acquired several local hotels and restaurants as the first step in developing Maratea tourism in a way that would "conserve, protect, and improve" the existing tourist structure while offering new activities such as music festivals, boat excursions, horseback riding, and culinary events (including a Caseus Prize cheese competition).
Yet Maratea's basic appeal remains unchanged: The resort draws travelers who want to enjoy a dramatic coastal setting, historic buildings and monuments, a rich local gastronomy, and the unspoiled atmosphere of a community that refuses to heed the siren call of mass tourism.
Next page: Maratea historic center
---
---
---