Maratea, Basilicata, Italy
Page 6
Continued from page 5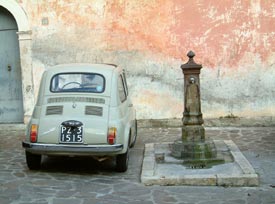 Transportation
Arrival by train. Maratea is about three hours from Naples Central Station by regional train, or just over two hours by InterCity train. Another option is the Eurostar, which stops at nearby Sapri. See the Trenitalia Web site for schedules and ticketing information.
Arrival by car. The quickest way to reach Maratea is by the A3 tollway from Naples, which takes two to three hours. Leave the Autostrada at the Lagonegro Nord/Maratea exit and follow the local roads to Maratea.
The coastal highway, or Via Nazionale, is another possibility. From Campagnia, head for Sapri, just above the border with Basilicata, and follow the coast about 20 km (16 miles) until you reach Maratea.
If you need a rental car for the journey, try our partner, Auto Europe, which offers outstanding service and a "lowest rate guarantee."
Note: The Via Nazionale and local roads are mostly two-lane, with many blind curves. However, the roads are in good condition and are well-protected with guardrails, walls, and reflectors.
Arrival by air. Naples International Airport is two to three hours north of Maratea. In a pinch, you can fly into Rome's Leonardo Da Vinci Airport (Fiumicino), which is a four- to six-hour drive from Maratea. From there, you can take a cab to the railroad station and catch a train to Maratea or Sapri. (See "Arrival by train" above.)
Arrival by boat. The Porto di Maratea has a small marina. For harbor information (including business hours and contact details), see the Italian Coast Guard's Ufficio Circondariale Marittimo di Maratea page.
Local rentals. Car, scooter, and bicycle rentals are available in Maratea. (Ask your hotel's reception staff for recommendations.)
Buses. For information about taxis, local buses, and long-distance SITA Sud buses, see the local tourist office or your hotel concierge.
Next page: Activities and excursions
---
---
---