Maratea, Basilica, Italy
Page 2
Continued from page 1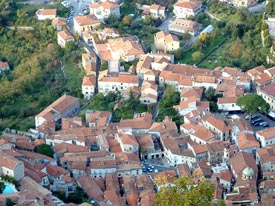 ABOVE: Maratea's Centro Storico, viewed from the statue of the Redentore.
Historic center
The Centro Storico or Old Town of Maratea is built on the slopes of Monte San Biagio (in English, Mt. Saint Blaise). Most of the village's buildings date to the 17th and 18th Centuries, having been constructed after an earthquake that destroyed the original settlement of Maratea Superiore (see photo) near the mountain's summit.
Maratea's best-known monument is the mother church of Santa Maria Maggiore with its belltower in the center of the village.
Another church worth visiting is the Chiesa dell'Immacolata (once known as San Pietro), where where a 14th Century fresco was discovered in the early 1990s. To view the fresco, take the stairs through the door just to the left of the entrance. The last time we checked, the basement room was open on summer evenings until 8 p.m. and until 7:30 p.m. in winter.
After you've paid your respects to Maratea's saints and artworks, just wander the narrow streets, alleys, and stairways and soak up the local atmosphere. The old town is compact, so you won't need much more than an hour or two to enjoy the sights. You can then relax at the gelateria on the town square, have a leisurely lunch, wander through the village's shops, or steel yourself for the drive uphill to the Statue of Christ the Redeemer and the Sanctuary of San Biago (formerly a pre-Christian temple), where you can enjoy spectacular views of the village, sea, and countryside.
Note: Concerts occasionally take place in Maratea's churches on summer evenings, and the Festival of San Biagio draws crowds of locals and tourists alike in mid-May.
Next page: Port of Maratea
---
---
---