Maratea, Basilicata, Italy
Page 5
Continued from page 4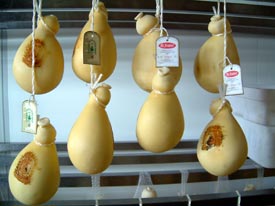 ABOVE: Don't leave Maratea without edible souvenirs and gifts such as these Caciocavallo cheeses made by the Caseificio Fratelli Starace in nearby Silla di Sassano.
Shopping
Food
In the historic center, Enoteca "La Farmacia dei Sani" offers gourmet foods that would cost three times as much at Fortnum & Mason or Willams-Sonoma (assuming that you could even find such delicacies in an Anglo-Saxon gourmet shop). For example:
Palloni di Fichi or "fig soccer balls" consist of semi-dried fig chunks packed inside dried fig leaves. Cut the strings that hold a pallone together, and the baseball-size treat opens like a party favor. The cost: a modest 3 euros.
Salami di Fichi is a sweetmeat "sausage" made with figs, chocolate, orange, spices, and rum. It tastes much better than it sounds, and it looks just like a real salami.
Peperoni Secchi Fritti, or sweet fried peppers, are another must-buy gift item. These are slices of red pepper that have been deep-fried into chips or crisps. (Don't let the word "fried" scare you off--the pepper slices are light and crunchy, not greasy.)
Other products at La Farmacia dei Sani include flavored olive oils, grappas, sweet chestnuts in honey, and Dolceria d'Uva (must of grapes with honey, which is spread on slices of fresh ricotta cheese to make a simple but tasty dessert). The store also offers gift packs and will put together custom gift assortments in traditional reed boxes.
Handicrafts
Maratea shops offer tiles, ceramic knickknacks, lace, woodcarvings, baskets, and other items that are useful as gifts or souvenirs. Containers woven from river rushes, once used by shepherds to hold ricotta and other cheeses, are popular with visitors.
Shopping hours
Check with your hotel's receptionist for shopping hours, which may vary with the season. (Shops tend to close from about 1 to 4 p.m. and on Sunday and Monday mornings.)
Next page: Transportation
---
---
---