Scottevest Transformer Jacket Review
Page 2
Continued from page 1
By Durant Imboden
Field Test: Paris and Normandy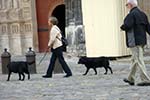 In the early fall of 2012, Scottevest sent me a Transformer Jacket to field-test during a visit to Paris and a river cruise to Normandy on Uniworld's River Baroness. For testing purposes, the timing was perfect: Cheryl and I were going to be in Paris and Normandy during the last half of September, when we could expect a range of temperatures (from warm to chilly) and a mixture of sunny, cloudy, and rainy days.
The first thing I noticed about the jacket was its styling: The Transformer Jacket is shorter, sleeker, and lighter than my original Scottevest Version Three.0 jacket or the heavy-duty Scottevest Expedition Jacket that I'd reviewed early in 2012. It's more of a technology-enabled hipster jacket than a parka.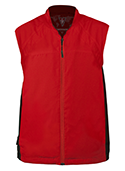 The Transformer Jacket comes in three colors: "ash" (grey), "blaze" (red), and "coal" (black), with contrasting vertical panels or stripes from underarm to hem. The lightweight shell is made of a polyester microfiber material, and the vest section of the jacket has a soft perforated lining for improved air circulation and comfort in warm weather.
The jacket's two exterior side 'handwarmer" pockets are protected by hidden zippers. The pockets are big enough to hold items such as a guidebook, a compact camera, a pair of gloves, a nylon bucket hat, or the jacket's removable shoulder yoke and sleeves. The right side pocket has an elastic water-bottle holder and a coiled cord for a keyring.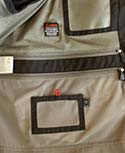 Inside, the jacket has another 17 pockets, including two "clear touch fabric" pockets for smartphones or MP3 players and a large zippered pocket for an iPad or other tablet. (I don't have a tablet, so I used the "pad pocket" to carry a folding tote for my morning trips to our neighborhood bakery in Paris.)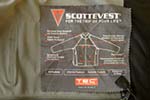 Other dedicated pockets include a zippered passport pocket (which is big enough to carry both a passport and a wallet), an eyeglass and chamois pocket (the microfiber chamois is printed with a pocket map and attached to the jacket by a stretchy cord), and an ID pocket for a driver's license or business card.
Like all Scottevest jackets, the Transformer Jacket is equipped with a "Personal Area Network" that routes wires from a smartphone or MP3 player to elastic earbud loops in the soft fabric-lined collar.
How did the Transformer Jacket perform during my nearly three weeks in Paris and Normandy? In a word: Perfectly. I wore the jacket daily, in weather that ranged from cold and rainy to warm and sunny. I tugged the sleeves off and put them back on as needed, without having to remove the jacket. And if any pickpockets tried to find my passport or wallet, they didn't succeed.
Follow-up: I tested the jacket again during a 2013 barge cruise on La Bella Vita (roundtrip from Venice). It performed admirably, although the sleeves did become wet after a prolonged downpour--which is another way of saying that the Transformer Jacket's fabric is water-resistant, not waterproof.
Verdict: The Scottevest Transformer Jacket is the perfect casual travel jacket and vest for spring or fall, and also for summer days in Northern Europe.
For more information, visit the Transformer Jacket page at Scottevest.com.
Back to: Scottevest Transformer Jacket - Introduction
---
---
---