Cape Clear Island
from Walking in Ireland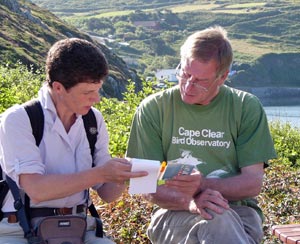 Chuck Kruger (shown here with Linda Woods of SouthWestWalks Ireland) is an American who, with his wife Nell, spent 26 years on the staff of an international school in Zürich before moving to a farm overlooking the South Harbour in 1992. He's a personable, obviously well-educated fellow with an engaging manner who must have been very popular with his students in Switzerland.
Chuck writes fiction, nonfiction, and poetry, and his three books are set on Cléire. Cape Clear Island Magic, billed as "a photographic, historical and dramatic account of Clear Island, Ireland," is interesting reading and a worthwhile souvenir of your trip. You can buy an autographed copy at the Back Room Craft Store or from the author during your visit.
Chuck Kruger also leads guided island walks (which I can recommend personally) and directs the Cape Clear Island Storytelling Workshop in October of each year. For more information, visit Chuck and Nell Kruger Web site.
---
---
---
---
---