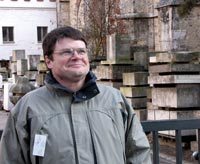 ABOVE: Michael Kostka is an English- and French-speaking guide with Regensburg Tourist-Information who writes about local history.
Here's where to find more information about Regensburg before your trip and after you arrive:
Regensburg Tourist-Information
The city of Regensburg's Fremdenverkehrsverein has a great deal of English-language information on its Web site. You can get free brochures and maps at the Tourist-Information office in the Altes Rathaus (old city hall), which is on the Rathausplatz a few blocks west of the Cathedral.
Frommer's Destinations: Regensburg
The guidebook publisher offers a handful of Regensburg pages from Frommer's Germany.
If you're interested in city planning and renovation, see:
Street Life: Regensburg
This informative article is from Planum: The European Journal of Planning Online.
Finally, don't miss our other Regensburg articles, which include: