Freiberg Cathedral
Dom St. Marien - St. Mary's Collegiate Church
From: Freiberg, Saxony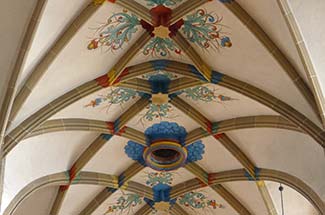 ABOVE: The flowers on the ceiling of the Dom St. Marien aren't modern additions: They're restorations of paintings from 500 years ago.
By Durant Imboden
Freiberg, Germany's Dom St. Marien (in English, St. Mary's Cathedral) is a remarkable structure for a town of 40,000 people: The Late Gothic church would be the envy of many larger cities, and its artistic riches are a legacy of the town's 700 years as "the Silver City of Saxony."

The church was founded in the 12th Century, when a Romanesque basilica was erected in the town that had been founded only a few decades earlier. (Freiberg officially became a town in 1186, and the church was built between 1180 and 1190.) In 1386, the church was enlarged, and it became a cathedral in 1480.
Just four years after earning cathedral status, the church collapsed in a city fire that destroyed most of Freiberg. It was rebuilt in late Gothic style between 1484 and 1501, creating the Dom St. Marien that exists today. The Reformation reached Freiberg in 1537, and the church has been Protestant ever since.

In addition to being a place of worship, the Dom St. Marien is the final resting place for Duke Moritz (an Elector of Saxony). It houses two organs by Gottfried Silbermann, one of Europe's greatest organ builders in the 18th Century.
You can learn more about Freiberg's St. Marien Cathedral at the church's official Web site, www.freiberger-dom.de. For more pictures of the cathedral with explanatory captions, go to page 2 of this article.
Next page: More photos of Freiberg Cathedral
---
---
---
---