Bergwerk Freiberg Mine Tour
Besucherbergwerk Freiberg, Saxony, Germany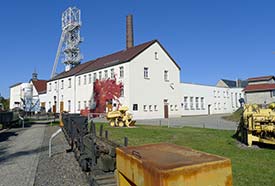 ABOVE: The headframe and hoist house at the TU Bergakademie Freiberg's teaching and research mine.
By Durant Imboden

Silver mining has a long tradition in Saxony: The first silver ore was discovered around 1168 AD, and by the 16th Century, mining in the Erzgebirge (Ore Mountains) had turned Saxony into one of Europe's wealthiest kingdoms. The Baroque spendors of Dresden were financed by Saxon silver, which was extracted from the rock beneath Freiberg until well into the 20th Century. (Today, nearly 2,000 km or 1,250 miles of mine tunnels--mostly abandoned--zigzag through the hard stone beneath the town of Freiberg.)
In 1765, during the heyday of silver, the Technische Universitšt Bergakademie Freiberg was founded as a teaching and research center for the mining industry. The TU has grown into a university whose scope goes far beyond digging or drilling for ore, but it remains the world's oldest school of mining--and it still operates a teaching and research mine on the outskirts of Freiberg.
As a tourist, you can visit the Bergwerk Freiberg, which offers a variety of guided mine tours for individuals and groups. Our advice:
Pick a tour that matches your abilities.

Children between 6 and 12 years old, elderly visitors, and wheelchair users should choose the "Underground Trail" option. Most visitors from ages 12-72 will be happy with the 1.5-hour tour or the slightly more strenous 2.5-hour "adventure tour." A five-hour "Special Tour" is offered on the first Saturday of the month and is recommended only for visitors in good physical condition who are willing to climb ladders.
Don't take a tour if you're claustrophobic or uncomfortable in the dark. Tours require descending 150 meters (nearly 500 feet) underground in a mine hoist, walking in narrow tunnels, and--for some tours--riding in a cramped compartment on a mine train. Most people will enjoy the experience, but if you're uncomfortable in close quarters, we suggest sticking with the hiking path above ground.
For more information, visit besucherbergwerk-freiberg.de.
To see captioned photos of an underground mine tour, go to page 2 of this article.
Next page: More Bergwerk Freiberg Mine Tour photos
---
---
---
---