Freiberg, Saxony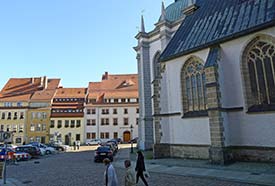 ABOVE: Freiberg's St. Marien Cathedral and the Untermarkt.
By Durant Imboden
Freiberg (the name means "Free Mountain") may live in the shadow of two larger Saxon cities, Dresden and Leipzig, but its importance to the wealth and development of Saxony--and especially of Dresden--can't be overstated.
Without "the Silver City of Saxony" and the mines of the Erzgebirge or Ore Mountains, the Electors of Saxony wouldn't have been able to indulge their passion for art, architecture, music, and theatre.

Even though much of Freiberg's wealth was sucked away by royals like Augustus the Strong, there were enough riches left over to pay for a rebuilt Freiberg St. Marien Cathedral, an impressive Rathaus or town hall, a Stadtheater, Freudenstein Castle, a technical university of mining, and other additions to the medieval town during the silver industry's heyday from the 1500s to the late 1800s.

Today, Freiberg has a population of about 40,000, and the Technical University Bergakademie--the world's oldest school of mining--continues to attract students from Germany and abroad. The town has an attractive medieval center, several excellent museums, four Silbermann organs, and events such as the Bergstadtfest mining festival (June), the Silbermann Days organ festival (September), and the Freiberg Christmas Market.
Where to get tourist information: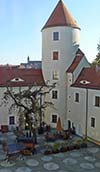 Stadtmarketing Freiberg has a Web site at www.freiberg-service.de, which is available in imperfect but serviceable English.
When you're in Freiberg, you can pick up several different English-language brochures and maps at the Tourist Information Office, which is behind the Rathaus or Town Hall on the Obermarkt. One of the most useful is Zu Fuß durch Freiberg, which is available in English as "The old part of the town: a guided walk (about one hour)."
The tourist office's multilingual staff can also help you find accommodation (in a hotel, guesthouse, apartment, or private room) if you haven't booked ahead.
Note:
Freiberg is an excellent base for touring in the Ore Mountains, and it's easy to reach by car or train from Dresden (which is only 35 km or 20 miles away). We recommend staying for at least one night, or possibly for two nights if you're coming for an event or spending time in the local cathedral, museums, and other attractions.
Next page: More Freiberg photos
---
---
---
---