Schloss Freudenstein
From: Freiberg, Saxony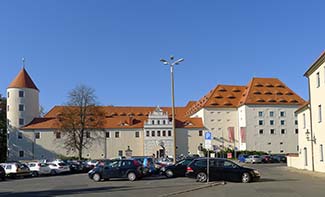 ABOVE: Schloss Freudenstein is at the northwestern corner of Freiberg's town center.
By Durant Imboden
Schloss Freudenstein, or Freudenstein Castle, has been around in one form or another since 1168, when a Otto the Rich built a fortress to protect Freiberg's silver mines.
The current Renaissance palace was completed in the late 1500s as a McMansion upgrade to the earlier castle, which had been the residence of a duke and the birthplace of two prince-electors of Saxony. Over time, Freudenstein Castle became a kind of hotel for visiting dignitaries and a venue for aristocrats' weddings, christenings, and hunting parties.
In 1711, Tsar Peter I of Russia stayed at the Schloss twice while learning about mining in Freiberg, but from the late 18th Century until a 20th Century restoration, the castle was used for such purposes as an orphanage, a prison, a military depot, an army hospital, a granary, and a coffee-roasting facility.
Today, Schloss Freudenstein houses the Freiberg Mining Archives and the world-class Terra Mineralia museum. You'll also find a Schlossrestaurant with an outdoor café in the castle courtyard.
For more information about Freudenstein Castle, visit Schloss-Freudenstein.net. In the meantime, here are several photos to whet your appetite:
---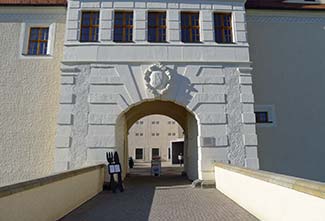 A footbridge leads across the moat and into Schloss Freudenstein. There's no need to buy a ticket.
---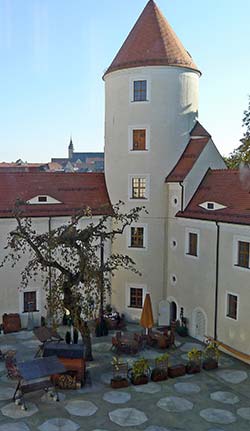 The castle's Romanesque tower overlooks a paved courtyard.
---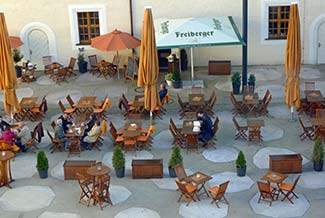 In nice weather, you can drink or eat at the castle restaurant's outdoor tables.
---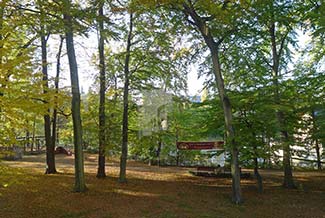 The back of Schloss Freudenstein faces woods and a large pond.
---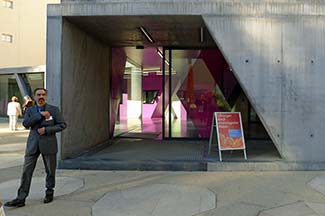 Inside the courtyard, look for the modern entrance to Terra Mineralia, an outstanding museum that's organized as a "world trip to the treasures of the earth" with more than 3,500 minerals, gemstones, and meteorites from six continents.
---
---
---