---
Notre Dame Cathedral Towers
By Durant Imboden
The north and south towers of the Cathedral of Notre Dame stand 69 meters or 226 feet high, not counting the lancets that project from their rooflines. If you're "fine fettle" (to borrow a phrase from the cathedral's Web site of several years ago), you can walk up a spiral staircase to a gallery that offers close-up encounters with the gargoyles that played supporting roles in Victor Hugo's The Hunchback of Notre Dame. From there, you can explore the cathedral's belfry and climb another 147 steps to the top of the south tower.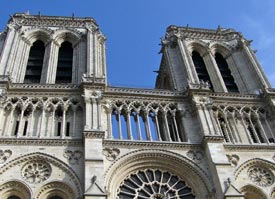 ABOVE: The north and south towers with the Grand Gallery in between. INSET BELOW: Notre Dame and its towers from across the Seine.

The total climb is 387 steps, and there aren't a lot of places to rest along the way, so we recommend climbing the towers only if you're in reasonably good shape. We also suggest wearing comfortable walking shoes, since high heels are likely to be a hazard on the fan-shaped steps.
Next page: Climbing the towers
---
---