Canal St-Martin Cruise Photos - 3
From: St. Martin Canal Cruises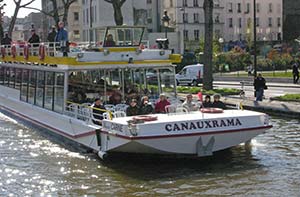 Paris Canal is one of two excursion-boat companies on the Canal Saint-Martin: The other, Canauxrama, offers a slightly shorter itinerary that doesn't include the Seine. You're likely to pass one of its boats (as le Canotier did) as you cruise up or down the canal.
---

The final section of the Canal Saint-Martin is underground, beneath a strip of gardens and playgrounds in the center of the Boulevard Richard Lenoir.
---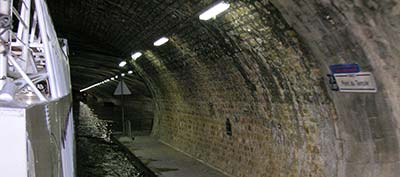 Walkways along the side of the tunnel were once used as barge towpaths.
---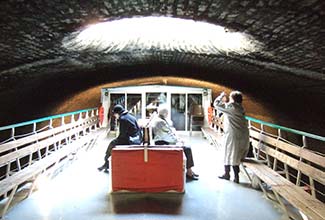 The mostly dark tunnel receives air and occasional patches of light from ventilation shafts overhead. (Note how the boat fills most of the tunnel's width. Only one large boat or barge can be underground at any given time.)
---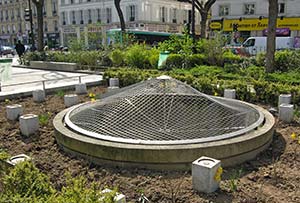 This photo shows the top of a ventilation shaft on the Boulevard Richard Lenoir, north of the Place de la Bastille.
---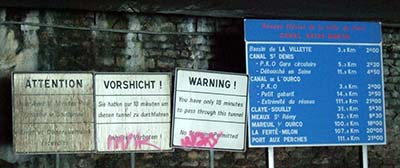 As the Paris Canal boat reaches the southern end of the voute souterraine or barge tunnel, you can see signs for northbound vessels in French, German, and English that read: "WARNING! You have only 18 minutes to pass through the tunnel."
The blue sign shows distances to points along the Canal Saint-Martin and connected waterways in the Īle-de-France region and beyond. The farthest destination listed is the Porte aux Perches, 111 km or nearly 70 miles from the Seine.