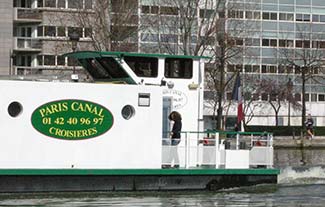 After departing the quay, the Paris Canal excursion boat passes modern apartment buildings on its way to the Rotonde de La Villette and the elevated Stalingrad Métro station (where the Bassin de la Villette connects with the Canal Saint-Martin).
---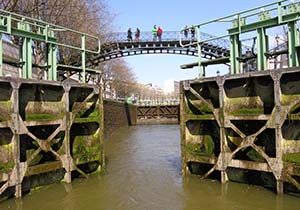 As the boat cruises down the Canal St-Martin, it goes through a series of locks. The canal's elevation drops 26 meters or 85 feet in the 4.5 km or 3 miles between the Parc de la Villette and the Seine.
---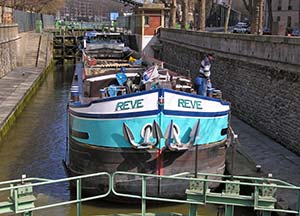 From the 1900s until World War II, the Canal St-Martin was a major industrial waterway, but barge traffic declined sharply after the war, and city officials considered paving over the canal for an autoroute in the early 1960s.
Today, the canal is mostly a recreational waterway, but it still has commercial traffic. The city of Paris has been renovating the canal infrastructure in the last few years, with the goal of shifting freight from trucks to barges in an effort to reduce highway traffic and pollution.
---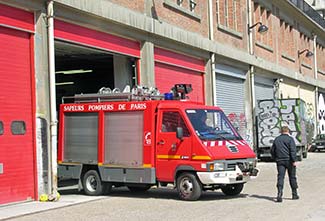 In the northern section of the Canal St-Martin, there's enough room along the water for industrial buildings and even a firehouse. (Interesting fact: French firefighters are technically part of the armed forces. During the annual Bastille Day parade, you can see sapeurs and pompiers marching in uniform with rifles.)
---
---
---