Venice > Local transportation > Waterbus stops > Giardini & Giardini Biennale
Giardini & Giardini Biennale
From: Venice Waterbus Stops
Giardini and its neighboring piers at Giardini Biennale are located next to Venice's Public Gardens and Biennale exhibition grounds, about a 15-minute walk east along the waterfront fromthe Piazza San Marco.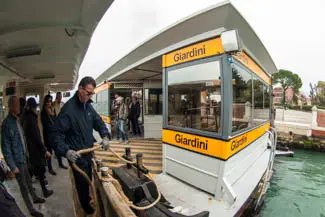 During Venice's Biennale art expo (which takes place from spring through fall in odd-numbered years), the station can be busy. At other times, it's just a sleepy local stop used by park visitors and residents of nearby neighborhoods in Venice's Castello district.
The station is served by:
ACTV Lines 1, 2, 4.1, 4.2, 5.1, 5.2, 6, 8, N public water buses
Look for your route number on the boat platforms and water buses before boarding, since the station has multiple pontili or pontoons.
Note: This station does not have a working ticket booth or vending machine (the existing ticket booth has been closed for several years), so here's what to do if you need to board a water bus without a valid ACTV ticket or Tourist Travel Card.