Venice > Local transportation > ACTV maps & timetables
ACTV Maps, Timetables, and Apps
View schedules or download PDF files to your computer, tablet, or smartphone from the Venice public-transportation network's Web site. Apps for iPhones and Android phones are also available.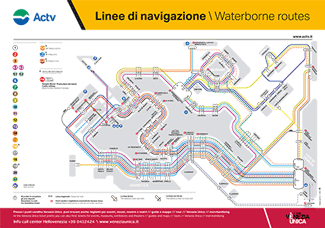 ABOVE: This thumbnail shows ACTV's easy-to-read route map, which you can download as a large, scalable PDF file from ACTV's Web site.
ACTV, Venice's public-transit agency, has published a number of useful documents that you can view on your computer, tablet, or smartphone or print before leaving for Venice.
To save you the hassle of trying to find the maps and timebables on the ACTV's confusing Web site, we've provided links to the relevant pages below.

ACTV Waterbus or Vaporetto Maps
This English-language page has green buttons for:
A downloadable PDF map of "waterborne" or waterbus lines.

An interactive line map. (Click on a line number, and the route will appear on the stylized map of Venice and its islands.)

A map of bus services in Mestre and Marghera, on the Italian mainland. (These areas have many inexpensive hotels and hotels with parking.)
The page also has:
Links to PDF maps of large waterbus stops such as Piazzale Roma, the railroad station, Rialto, the Piazza San Marco area, and the Lido. (These stops have multiple platforms, so the maps make it easier to find the right pier for a given waterbus line.)
For even more resources, see the ACTV's more comprehensive Italian-language version of the maps page.

Land Bus Timetables
Click the link above to find land buses between the mainland districts of Mestre and Marghera and Venice's Piazzale Roma, for travel within Mestre's urban bus network on the Venetian mainland, and for suburban/exurban bus routes.

Tram
ACTV operates trams in Mestre and Marghera, plus a Line 1 tram between Mestre and Venice's Piazzale Roma.

People Mover
The People Mover elevated tram runs between Piazzale Roma (the car, bus, and taxi gateway to central Venice), the Marittima cruise terminals, and the Tronchetto parking garage. For detailed information with photos, see our Venice People Mover article.
ACTV smartphone apps
The parent agency of Venice's transit service has free smartphone apps for iOS and Android. See:

AVM iPhone app (Apple store)

AVM Android app (Google Play store)
Caveats:
See our archived Venice Travel Blog post about official ACTV published timetables that aren't always up to date.

ACTV's Web site can be flaky, and URLs have a nasty habit of changing without warning. If any of the ACTV links above don't work, try navigating to  the home page at www.actv.it and drill down from there.

The AVM phone apps have terrible reviews, so they may not be worth installing on your phone.
---
---