Venice > Local transportation > Waterbus stops > Redentore (Giudecca)
Redentore (Giudecca)
From: Venice Waterbus Stops
Redentore is near the eastern end of La Giudecca, facing the Giudecca Canal and Venice's historic center.
One of Venice's most famous churches, the Chiesa del Santissimo Redentore (a.k.a. Il Redentore), is practically next door to the boat platforms.
During the annual Festa del Redentore in July, a temporary pontoon bridge runs across the Giudecca Canal from Venice's Dorsoduro district to the Redentore church.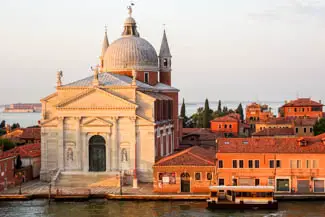 The Redentore waterbus station is served by:
ACTV Lines 2, 4.1, 4.1, 8, N public water buses
Note: This station does not have a ticket booth or vending machine, so here's what to do if you need to board a water bus without a valid ACTV ticket or Tourist Travel Card.